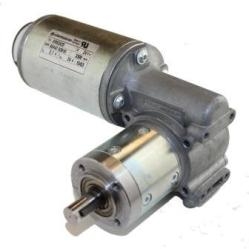 Elgin, IL, July 19, 2012 --(
PR.com
)-- To meet the needs of OEMs requiring a high torque, low output speed non-backdrivable gearmotor without sacrificing energy efficiency, Dunkermotor, now part of AMETEK Precision Motion Control, has paired a right angle worm gear to turn the corner with an efficient planetary gearbox for high reduction ratios as well as high torque capability. The new Dunkermotor Wormetary™ gearmotor configuration is 2.5 times more energy efficient at an overall 80:1 ratio than what can be achieved through worm gear reduction alone.
The Wormetary™ gearmotors can be designed to be non-backdrivable or self-locking and are offered with overall gear reduction ratios ranging from 22.5:1 to 35,000:1, with peak torque capability up to 320 N-m (2,832 in-lbs). The Wormetary™ configuration can be applied to Dunkermotor's long-life brushed permanent magnet DC (PMDC) motors in frame sizes from 42 to 80 mm.
"We believe that for many OEMs the Wormetary™ gearmotors offer a better value solution than bevel or hypoid gearing where energy efficiency is important and their application requires a non-backdrivable gearmotor," said Wilfrid Vinson, president of Dunkermotoren USA, Inc. "This is just one more example of the many types of solutions which are made possible by the modular Dunkermotor system of engineered components made up of brush and brushless DC motors up 530 Watts (0.71 hp), our planetary and worm gearboxes, encoders, and brakes, as well as a family of integral controls and fieldbus interfaces."
Wormetary™ gearmotors in the 53 and 63 mm sizes can be provided with integral 4-quadrant speed controllers as well as IP 65 environmental protection.
To meet the international sales requirements of its customers, Dunkermotor's brushed DC motors employed in the Wormetary™ gearmotors have received UL and cUL certifications for the U.S. and Canada as well as CE and CCC certifications for the European and Chinese markets.
About Dunkermotor
Dunkermotor is the North American go-to-market name for Dunkermotoren GmbH, now part of AMETEK Precision Motion Control. Since 1950, Dunkermotoren has been recognized as the global quality and value leader in customized, configurable sole-source fractional horsepower motion control solutions composed of BLDC, PMDC and AC electric motors, gearmotors, controls, encoders and brakes, as well as linear motors. In 2011 Dunkermotoren produced over 3.4 million motors for the factory and commercial automation, specialty machinery, medical, solar power, packaging, semiconductor and mass transportation industries.
In May 2012, Dunkermotoren became part of AMETEK Precision Motion Control, a division of AMETEK's Electromechanical Group (EMG). AMETEK EMG, with 2011 sales of $1.3 billion, is a leader in technical motors and associated systems, electrical interconnects, and specialty metals. AMETEK, Inc. (NYSE: AME) is a leading global manufacturer of electronic instruments and electromechanical devices with annualized sales of $3.3 billion.