OpenJar Concepts, Inc. Has Upgraded to a Sharp New "Buzzing Bee Hive"
August 17, 2012 -- Temecula, CA– OpenJar Concepts, Inc., ("OJC") a direct-response, integrated marketing firm with emphasis on lead generation campaigns on TV, Radio and Mobile has moved.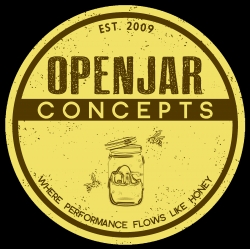 Temecula, CA, August 18, 2012 --(
PR.com
)-- The upgraded "Hive" of the OJC "Buzzing Bees" is official. Inhabiting their new address, the OpenJar team is poised for the next level of progression in this amazing and ongoing OJC story that began in 2009. The company, which started with humble beginnings in the home office of Adam Warren and the converted living room of Reno Renaldo, has expanded from their first office of 1200 feet, to a now spread out 3800 square feet with room to grow. Renaldo states, "While the company has moved and enhanced it's headquarters, the culture and solutions based mindset of OJC that has continued to be a backbone to our success remains fully intact." Warren further explains, "This is a grass roots, scrappy, high integrity company that will stop at nothing to ensure every effort is applied to enhancing the business experience for all of its partners. Yes, we still have a super casual dress code and the Pac Man video table. We haven't outgrown fun. That being said, the company continues to thrive with tremendous luck, good fortune, a passionate and committed team with incredible strategic partners and clients that all come together to execute a diverse set of objectives. We're excited to see the next chapters in this journey unfold." Action packed photos of the "Big Move 2012," are available on the OJC Face Book page.
Follow us: https://www.facebook.com/openjar
New Address:
OpenJar Concepts, Inc.
27710 Jefferson Avenue S
Suite 302
Temecula, CA 92590
OpenJar Concepts Inc. works to augment marketing efforts, co-develop client strategy and execute plans that are driven by performance and lead generation. The combined experience of more than 30 years in Cost Per Action/Order/Acquisition TV and Radio, Traditional Direct Response, Mobile and Entertainment is leveraged to help clients better understand the proper use and applicable nature of the various awareness and technology platforms available today. To further assist clients, OJC has formed invaluable strategic alliances to further extend the offering and added value available to their clients. OpenJar Concepts, Inc. is a privately held company headquartered in Temecula, CA. For more information about OpenJar Concepts, Inc., please visit www.openjar.com
Contact
OpenJar Concepts, Inc.
Adam Warren
877-OpenJar (673-6527) or 951-296-9222
www.openjar.com

Contact