EveryDoorDirectMail.com Dominates Market, Mails Five Million Postcards and Flyers
EveryDoorDirectMail.com reaches major milestone less than one year after launch. The popular website offers turnkey design, print, and mail services at low prices.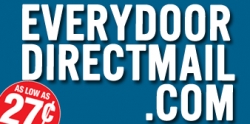 Richmond, VA, September 11, 2012 --(
PR.com
)-- EveryDoorDirectMail.com announced today that it has successfully mailed more than five million offers via Every Door Direct Mail™ from the USPS®. The announcement comes less than one year after the site's launch and rise to dominance in the direct mail advertising industry.
The website, owned and operated by Taradel LLC, provides business advertisers, organizations, and non-profits with affordable access to turnkey direct mail solutions. From chiropractors, to pizzerias, the program has been a smash hit among both small business owners and national chains.
"We have doubled our customers in less than 2 weeks," said Doris Leiva, a Virginia-based pizza restaurant owner. "We will continue using EveryDoorDirectMail.com for all of our future marketing efforts."
In short,
EveryDoorDirectMail.com
takes a traditionally complex process (direct mail), and makes it an exceedingly simple, if not enjoyable, process for advertisers of all experience levels.
Taradel founder and CEO, Jim Fitzgerald, noted that, "People love using the site, especially those customers who have tried to do this themselves in the past. They really appreciate the ease of use and the time it saves. This is evidenced by the substantial increase we see in repeat customers."
At the website, most advertisers complete turnkey direct mail orders in less than ten minutes – a process that once took hours, or even days. Powered by an industry-leading online mapping tool, users can target mailing areas, select from multiple design and print options, and mail their offers directly to prospective customers.
To learn more about
Every Door Direct Mail
, call 1-800-481-1656 or visit EveryDoorDirectMail.com
Follow Taradel on Twitter @TaradelPrinting and at Facebook.com/TaradelLLC
Contact
Taradel
Chris Barr
(804) 364-8444
www.everydoordirectmail.com

Contact