Group Provides Inspiration for Women Over 40
Atlanta Over 40 Females is empowering women through networking, supporting and inspiring presentations. The March program "Reconnect with Your Joy" is designed to encourage focus on joyful moments to ease the difficulties of stressful life experiences.
Atlanta, GA, March 12, 2013 --(
PR.com
)-- Atlanta Over 40 Females, a premier organization created to give women a platform to be heard, to network, and encourage personal development with the motto "Connect, Encourage, Inspire" will host its monthly meeting on Tuesday, March 19, 2013 from 5:30-7:30 pm, Cheeky Restaurant @ the Avenue East Cobb, 4475 Roswell Road, Marietta, GA. The March theme is "Reconnect with Your Joy" and comedian TuKute, who began her stage career at age fifty, will provide inspirational entertainment. The Atlanta chapter experienced a successful launch in February at Due South Southern Cuisine Restaurant in Peachtree City, GA, where women from around the city converged to experience unparalleled networking, inspiring conversations, connections with new friends and motivation from Over 40 Females founder, Judy Goss.
About Over 40 Females - Judy Goss, a former editor and national TV spokesperson at MORE magazine, founded Over 40 Females in 2010 after travelling around the country meeting hundreds of women over the age of 40 that wanted to be heard and celebrated for their contributions in their careers, businesses, homes and the communities they serve. Over 40 Females, a national organization, is not just another networking group. Members have received press (TV and editorial), jobs, national speaking opportunities and invaluable business connections. The Greater Atlanta Chapter Director is Sheila L. Agnew, entrepreneur, author and peer coach with extensive experience in mentoring and coaching women through self-development programs, including seminars and workshops on reinventing, reconnecting and embracing the aging experience. For more information on group membership and event attendance, contact Sheila Agnew at sagnew@over40females.com, or get additional information by visiting our website, www.over40females.com and click on Atlanta Chapter.
Contact
Atlanta Over 40 Females
Sheila Agnew
773-679-5946
over40females.com

Contact
Multimedia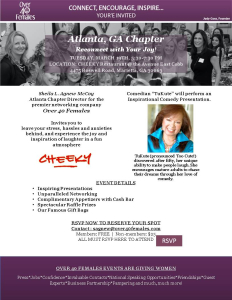 Invitation and Overview of March 19th event for Atlanta Over 40 Females.