Squirtman is About.com's Crazy/Wierd Site of the Day
Squirtman, a silly superhero you will love to laugh at. He's orange and crazy. He's in a movie called Horrorween and The Rage. He does silly youtube videos on his Squirtman.com site.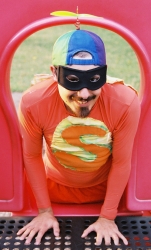 Columbus, OH, August 07, 2007 --(
PR.com
)-- World famous superhero still is wacky and nutty!
James Gilkerson, the worlds's most famous superhero has been announced as About.com's "Crazy/Wierd Site of the Day"
www.Squirtman.com
is James Gilkerson from Columbus, OH who admits he's wacky, silly, nutty and loves to make people laugh at him in his silly orange costume he created.
With over 50 thousand hits on his site, he's made thousands laugh over and over at his stupid youtube videos which can be seen on Squirtman.com. He's an extra in the upcoming movie "Horrorween" that comes out Oct 3, 2008. He is also in a movie called "The Rage" that comes out Oct 2, 2007.
When asked about why he wanted to be a silly superhero, Mr. Gilkerson said "As long as I can be silly and make people laugh at me like the people on Saturday Night Live I will be happy." I watched Benny Hill, Pee Wee Herman, Saturday Night Live, Tom Green, Jackass and thought if they can be stupid and silly so can I but with a twist and wear a superhero costume. I wanna create a new version of Batman from the 70's."
Still hoping to get on Jay Leno and Howard Stern, he sent them a bottle of Jones Soda Pop and a Squirtman dvd in the mail to them last year, but hasn't heard back from them. Mr. Gilkerson says "Howard Stern should like him cause he was Fartman back in the day and now there's a Squirtman he needs to meet and make him a side kick in a movie or something crazy like that."
Squirtman.com is Tom Green and Jackass all rolled up into one but a pg 13 version of them. Mr. Gilkerson says "I have some limitations, I don't wanna hurt anyone or get hurt and I don't do the gross stuff like eating bugs."
Don't forget same channel, same time, will Squirtman save the day from Umbrellaman. Tune in next week for another great episode of Squirtman and his friends doing wacky stuff at Squirtman.com.
Contact:
James Gilkerson, 614/208-5601
Email: Squirtsquirt91@yahoo.com
http://www.squirtman.com
###
Contact
squirtman
James Gilkerson
614 208 5601
squirtman.com

Contact