Naples Real Estate Agent Graham Ginsberg Finds Naples, Florida Shows Increase in Median Sold Prices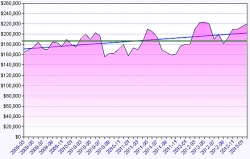 Naples, FL, March 19, 2013 --(
PR.com
)-- Graham Ginsberg is a Real Estate agent in Naples, Florida with years of professional experience helping buyers and sellers of luxury residential properties in Naples and surrounding cities of Estero, Fort Myers, Bonita Springs and Marco Island.
There are a few major real estate centers in southwest Florida, which include Naples, Marco Island, Bonita Springs and Estero.
Over the past four years Naples has definitely shown the most positive and dramatic improvement in real estate values, as shown on the attached graph, which indicates Median Sold Prices. The graph shows a steady increase in values, which is encouraging considering the drops experienced during the bubble years.
Marco Island, Bonita Springs and Estero cities have done fairly well, their values have been fairly constant over the past four years, while Naples Median Sold Prices have increased.
The Naples New Listings graph shows a significant decrease in real estate inventory in the Naples, Florida market. This inventory includes all types of properties, from condominiums, homes, vacant land to boat docks. But the largest portion of inventory is by far, condominiums and single-family homes.
"With the apparent drop of MLS inventory,
Naples Florida
has shown a steady increase in property values, which is encouraging. But it does not mean that all foreclosure home inventory is being readily consumed by the market. It is my opinion, that banks are holding their foreclosure inventory back and not putting them into the market, thus creating a perception of low inventory and causing a higher demand thereby pushing values up," says Graham Ginsberg, Naples real estate agent and owner of Naples-Fl-Real-Estate.com.
"As an example, my neighbor moved out of their home in Logan Woods a year ago and the house has sat vacant ever since. There is a sign on the window indicating the banks information on it and they do maintain the vegetation, but there is no sign of the property going on the market. And just a few days ago someone forced their way into one of the structures, which does nothing to improve my property value by having an open door on the property.
"It is quite clear that the bubble effect has past Naples and this could be a sign of a steady upswing in property values. I just wish banks would allow abandoned homes to be purchased by home buyers that will help increase neighborhood values, instead of leaving them to deteriorate."
The real estate graphs attached provided by Naples Board of Realtors.
Sun Realty - Graham Ginsberg
3757 Tamiami Trail N,
Naples, FL 34103
(239) 404-4221
Contact
Sun Realty
Graham Ginsberg
239-404-4221
www.naples-fl-real-estate.com

Contact