The Revolutionary Taco Rack -- "America's Only Taco Cooking System" Hits the Airwaves in Chicago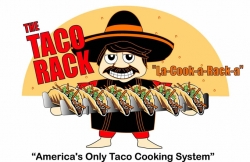 Chicago, IL, August 17, 2007 --(
PR.com
)-- The Taco Rack, by La-Cook-a-Rack-a, Ltd., America's only taco cooking system hits the airwaves with an infomercial through The Shopping Channel Network (Lighthouse Point, FL). The infomercial that airs on Channel 34 in Chicago features the "Taco Rack Fiesta Pack", which offers a simple yet efficient way to prepare, cook and serve tacos for the whole family without the stress and mess of making tacos.
The "Taco Rack" is made of stainless steel, which makes them ovenproof and dishwasher safety. The "Taco Rack's" patented design elevates the taco shells for even heat distribution. This prevents the shells from closing up, which happens when they are heated laying down, and it prevents the shells from breaking when filling them. The Racks are also easy to assemble and disassemble for easy storage. The "Taco Rack" is appealing to anyone who loves tacos but knows the stress, mess, and wastes, associated with making them the old way. No longer are taco lovers forced to take their tacos lying down, half-filled, broken or soggy.
The "Taco Rack" is a great gift idea to anyone on your gift list. Tune into Channel 34 everyday between 4:00 and 7:00 pm to order your "Taco Rack Fiesta Kit" today or go onto www.tacorack.com where "Taco Rack" is available in combination packages for easy affordability and customization for each individual.
Contact: Elaine De Luca Byrnes
631-366-2705
edbyrnes@lucecreative.com
###
Contact
La-Cook-a-Rack-a, Ltd.
Elaine De Luca Byrnes
631-366-2705
www.tacorack.com

Contact