In New Book, Entrepreneur Tells How He Created "The Switch" Carbonated Beverage
"The Switch Effect" is a new book by Mike Gilbert about how he started a company called The Switch Beverage company after he created a carbonated beverage that is 100% juice.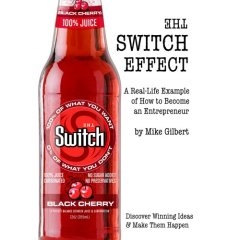 Richmond, VA, August 23, 2007 --(
PR.com
)-- Mike Gilbert jumped into the sexy, competitive world of soft drinks with little more than a dream, and he created one of the most innovative beverages on the market. Out of work and unsure of his future, Mike cashed in his 401K, called in some favors, and formed a company that would eventually be known as The Switch.
By sheer perseverance, Mike took his idea of a carbonated beverage that is 100% juice and made it a reality. Along the way he met many obstacles and challenges. He considered giving up many times, but his belief in the product kept him going. Despite many missteps and wrong turns, his dream finally came true.
This new book, "The Switch Effect," (Palari Publishing, $16.95, November 2007) is the story of how it all happened. Also included in the book are helpful resources like a milestone calendar and actual samples of executive summaries and other documents critical to an entrepreneur's success. For more information visit
www.theswitcheffect.com
.
###
Contact
Palari Publishing
Dave Smitherman
866-570-6724
www.palaribooks.com

Contact