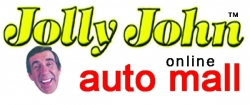 Cape Elizabeth, ME, November 14, 2013 --(
PR.com
)-- Michelle Pulsifer Gordon announced today that she and her husband Peter are bringing back www.jollyjohn.com. Gordon stated that the website has been getting well over a thousand hits each month despite the fact that Pulsifer sold his dealership three years ago. Jolly John Online Auto Mall is tracking over 3000 hits so far this month. "People are looking for vehicles, going to the website expecting to find vehicles and nothing has been there," Michelle stated.
The website went live again on November 1st and has been well received. Gordon stated that her team is working with a select group of dealers around the state and have pre-negotiated deals to help save consumer's time and money. They plan to take the site national in the future but feel it is best to start here in Maine where Jolly was known best. "I feel it is the best way to honor the legend of my dad, Jolly John, as he always wanted his customers to get a fair deal."
Jolly John Pulsifer was one of the best known Automobile Dealers because of his radio and TV ads that ran for almost 30 years. "He was never afraid to make fun of himself to draw people in to one of his dealerships," stated Pulsifer-Gordon. He was best known for his Banana Costume where he pitched a deal with real appeal, and he dressed up in a diaper to help fill a trailer truck with diapers for victims of Hurricane Andrew.
If you would like more information on this topic, or to schedule an interview with Michelle Pulsifer-Gordon, please contact Peter Gordon at 207-671-7508 or e-mail Peter at peter@jollyjohn.com.