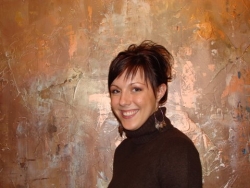 Raleigh, NC, September 19, 2007 --(
PR.com
)-- Erica Lockhart, 23, a leading hair stylist with Samuel Cole Salon in Raleigh, NC, is on her way to France this week to compete for the 2007 Rose d'Or Trophee de Paris, September 22 to 24, 2007, during the Organisation Mondiale Coiffure (OMC) international competition to be held September 22-24, sponsored by OMC Hair World. She is only one of four stylists from across the nation who placed on each of the U.S. "Junior Fashion" and "Junior Technical" teams, and the only junior stylist who placed on both.
Lockhart made the teams after she placed high in competition during the National Cosmetology Association's (NCA) 2007 USA Beauty Open held in Orlando, Florida, in June during Premiere Orlando, the largest beauty-industry exhibition in the nation. The next event will be held in Argentina in October, leading up the World Competition in Chicago in March of 2008.
Lockhart and the rest of the U.S. team will be in Paris for two weeks leading up to the European event. For the Technical competition, Lockhart said she will create two styles: Hair by Day and Hair by Night. "The night version will transform the blow-dry style I create for day wear into a style for night wear," she explained. For the Fashion team, she will create one "up-do" and one hair cut.
Lockhart, a graduate of the International Institute of Hair Design in Raleigh, joined Samuel Cole Salon's elite team of hair stylists three years ago after working with Total Hair Fashions and Hair Color Experts. Since November 2006, she also has trained every weekend for competition by completing projects in various aspects of hair cutting, styling, and coloring.
"I've always wanted to do things," she said recently, "to be a hair stylist and to compete. So this was the next thing. It challenges me to think outside the box. It allows me to go outside the normal limits and boundaries of doing hair in a salon and take my craft to a different level. And by competing in Paris, I'll have more experience to be better prepared for the world show in Chicago."
Samuel Cole Salon, located on Newton Road in North Raleigh, is an award winning, full-service hair salon owned by Jack and Joelle Ray. It recently received First Runner Up in Salon Today's annual "Salons of the Year" decor competition, placing it second only to the grand-prize winner, Frederic Fekkai's new salon in New York City. It was also featured in American Salon magazine's June edition, and was recently named one of the Top Ten Hair Salons and Best Salon for Color and Highlights in Citysearch's 2007 Best of the Triangle readers' poll.
For more information on the salon, visit http://www.samuelcole.com.
For more information on the Rose d'Or Trophee de Paris, visit http://www.omchairworld.com.
####