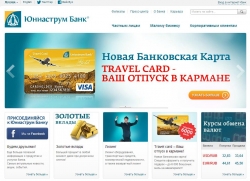 Moscow, Russia, December 04, 2013 --(
PR.com
)-- Uniastrum's website is a full-service, functionally designed online platform that enables clients not only to access information at the push of a button, but also to initiate a Bank-customer relationship. The site can be used to find out about Uniastrum products, fees, promos, Internet services, branch opening hours, and ATM and payment kiosk locations. Customers can also use the site to choose a Uniastrum card with the help of a user-friendly card comparison tool, apply for credit and debit products, and book a personal call from a Bank specialist at a time that best suits the customer. As well as these and other interactive services, the site is being seamlessly integrated with the Bank's CRM system, making for faster and more productive interaction with clients.
When compiling its rankings, Marskwebb Rank and Report focused on criteria such as the number of tasks that different user groups could perform on banking websites, as well as user-friendliness. Websites were graded with current and potential customers in mind, as well as with regard to their accessibility by job seekers, media researchers and journalists. All in all, a total of 51 sites were reviewed and evaluated based on a 663 criteria checklist, including those of the biggest retail banks operating in Russia.
The stated purpose of the survey and rankings, to enhance the quality of Russia's online banking services, accords fully with Uniastrum's own aims and objectives.
"We remain committed to developing a hi-tech bank that combines state-of-the-art online solutions and high-quality service at all our outlets," notes George Piskov, Chairman of Uniastrum's Board of Directors. "Our new IT systems, improved website and Internet banking tools mean that today a considerable amount of customer-bank interaction takes place online."