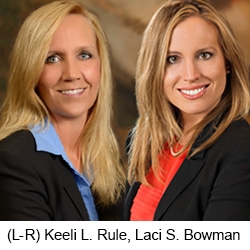 Dallas, TX, January 15, 2014 --(
PR.com
)-- Texas trial and appellate firm, Godwin Lewis PC, has announced that two attorneys in the Firm's Family Law section – Shareholder Keeli L. Rule and Senior Attorney Laci S. Bowman – have earned Board Certification in Family Law from the Texas Board of Legal Specialization. With this achievement, all of the attorneys in the Godwin Lewis family law section are now board certified.
In order to attain board certification in the area of family law, an attorney must complete a comprehensive series of requirements set by the Texas Board of Legal Specialization. In addition, candidates must pass an in-depth, day-long examination that focuses on family law matters.
"We at Godwin Lewis are exceptionally proud of Keeli and Laci," stated firm Chairman & CEO Donald E. Godwin. "Earning board certification in an attorney's chosen field is a long, challenging process, and achieving that certification places these two attorneys among the elite in Texas. The fact that every member of our family law group is now board certified reflects the skill and dedication of these outstanding Family Law attorneys."
Ms. Rule has represented clients in a wide variety of family law cases, including divorce, property division and child custody. She is a strong client advocate, working diligently to find best solutions, whether through litigation, arbitration or mediation. Active in the community, she is the President of the Legacy Family Court of Dallas County, and is a member of the Texas Academy of Family Law Specialists (TAFLS). In addition, she is a highly-regarded author and speaker. In 2013, Ms. Rule was selected to the list of Texas Super Lawyers published by Thomson Reuters, Legal Division, which recognizes the top attorneys in the state.
Ms. Bowman has a strong background in Collaborative Law, which she has used to settle cases regarding divorce, pre-nuptials, common law marriage disputes and more. She pursues her passion for collaborative law outside of the firm as well, with an active role in the Collaborative Law Professionals of North Texas, where she was a co-founder and past president. She is also a member of the Texas Academy of Family Law Specialists. Ms. Bowman was selected by Thomson Reuters, Legal Division, to the list of 2013 Texas Rising Stars, which recognizes the top young attorneys in Texas.
Founded in 1980, Godwin Lewis PC is a mid-size trial and appellate firm with a national practice. With offices in Dallas, Houston and Plano, Texas, Godwin Lewis represents Fortune 500 and middle-market industry leaders in Mission Critical Litigation throughout the United States. To learn more, visit the firm's website and www.godwinlewis.com.
For more information, please contact Ed Sothcott at 214-939-8626 or Ed.Sothcott@GodwinLewis.com.