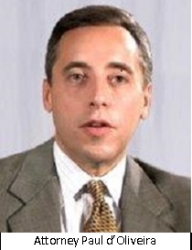 East Providence, RI, February 13, 2014 --(
PR.com
)-- Attorney Paul d'Oliveira, of d'Oliveira & Associates, PC, will be celebrating his law firm's 25th year of practicing personal injury and disability law here in RI and Southeastern, MA. Attorney d'Oliveira began his own practice in February of 1989 with only two offices in East Providence, RI and Fall River, MA.
Today, after 25 years, the firm has grown significantly and now has 15 offices throughout RI and Southeastern, MA, in order to better service and accommodate its clients. Through hard work, long hours and a passion to help people, the law offices of d'Oliveira & Associates has emerged a very successful and well known personal injury and disability law firms in the area.
The staff at d'Oliveira & Associates are all committed, first and foremost, to providing the best possible legal services to its clients. The firm is constantly doing all it can to improve its technology and train its staff in order to better serve its clients. Attorney d'Oliveira attends several legal seminars per year to continue to learn the newest and most innovative ways to serve clients and operate a large law firm. The goal is to not only provide excellent legal representation, but also to make sure the attorneys and support staff spend a significant amount of time counseling each client to meet all of their needs and to relieve them of any concerns that come with their legal problem. One of the firm's mottos is "You focus on healing…and we'll focus on your case."
All of the attorneys at the firm have at least 15 years of experience representing people injured in an accident or who need disability benefits. The paralegals and other support staff also have extensive experience in handling injury and disability cases. Equally as important, their seasoned staff is always there to help every one of their clients through all the paperwork, as well as to Listen, and let each client vent any and all frustrations, that inevitably come with having an injury or disability case.
Attorney d'Oliveira is very thankful for those that have worked with the firm for the past 25 years and stated that "the success of the law firm over these past 25 years, has a lot less to do with me than with what all these wonderful people, who work here, do for all of our clients. Their hard work and compassion for our clients is a beautiful thing to see and I am proud of all of those who work here. I certainly could not have had this kind of success all these years without them. Our goal continues to be simply this…to continue to pursue perfection in everything we do for our clients, knowing all well that perfection is impossible to achieve, however, in the process, we will achieve excellence. I hope we can continue to represent the injured and disabled for another 25 years."
About d'Oliveira & Associates
d'Oliveira & Associates is a Rhode Island and Massachusetts law firm that focuses on personal injury cases, including auto accidents, slip and falls, dog bites as well as social security disability cases. The firm also works with some of the leading attorneys in the United States for dangerous drug, defective medical product and medical malpractice cases. To learn more or for a free legal consultation, call 1-800-992-6878 or visit their website at
www.good-legal-advice.com
.