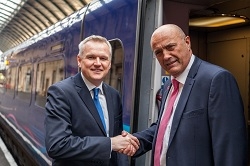 Hull, United Kingdom, February 24, 2014 --(
PR.com
)-- They say that life begins at 40, but for one train driver at
First Hull Trains
an important 40th milestone was celebrated for a very different reason.
On Tuesday 18 February 2014, Richard Pike celebrated his 40th year as a train driver and, by the end of that day, he had clocked up more than 10,000 shifts and more than 15,000 railway journeys!
To mark the occasion, the company's MD, Will Dunnett, arranged for a special delegation to meet Richard as he alighted in Hull from the 12.22 arrival from
London King's Cross
.
Will Dunnett, said: "This is an incredible achievement. He is an invaluable and highly experienced member of our +100 strong team, and I am proud that I have been able to share this important landmark in his long and illustrious career."
Richard, 57, who lives near Selby, started his career as a trainee driver in 1974 and hails from Westbury in Wiltshire. Having risen through the ranks to become a traction inspector and eventually a driver manager, he joined First Hull Trains as the company's longest serving train driver in 2012 – a very important appointment according to Will.
"Although we operate 90 direct services a week, we are actually one of the smaller train operating companies on Britain's railways," explained Will. "In view of this, we need to be very agile and versatile people are absolutely essential to us. The additional skills, capabilities and experience that Richard gives us have been invaluable. Indeed, it is this multidisciplinary approach to our people and talent management that enables us to operate so efficiently."
Richard said: "Blimey, where did that time go? The last 40 years have flown by. I joined BR at the age of 17 on the 'footplate' as a trainee. Ironically, that was a Tuesday too. Fast forward 40 years and I am working for the UK's best long-distance train company, on some of the fastest trains in the country with some of the industry's most talented people. My colleagues have all been very supportive and it is really nice that Will and the rest of the team have done so much to celebrate my anniversary."
Richard also supports trainee drivers providing them with practical, hands on guidance and advice and is often called upon to assess other qualified drivers at certain times of the year.
Over a third of First Hull Trains' staff have worked with the company for more than ten years. 50 per cent of the workforce are men, 50 per cent are women. Five of the organisation's 23 drivers are female all whom have been trained through the ranks and two more female drivers are about to be added to the roster.