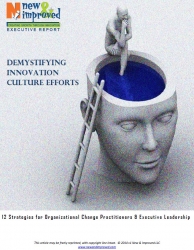 Paul Smiths, NY, February 27, 2014 --(
PR.com
)-- The Organizational Development Office at New & Improved released a long awaited thought paper "Demystifying Innovation Culture Efforts" which guides organizations to avoid the common pitfalls as they attempt to outpace their competitors.
The paper organizes effort into 12 strategic action areas and provides a road-map for leaders that has long been missing.
Bob Eckert, CEO at New & Improved said, "We hear the word innovation everywhere we turn today, and organizations understand that it is 'innovate or die.' Unfortunately, credible advice and guidance for creating sustained innovation culture can be hard to discern in the steady stream of innovation blather." Over the last 10 years, the word innovation has found its place on corporate value lists everywhere. Google "innovation consultant" and you get more than 72 million results. "Innovation Culture" is even worse at 347 million. That's a lot of "expertise" to sort through. Drive into most new industrial parks, and there will be an "Innovation Avenue" somewhere.
While the vast majority of articles and books available speak about how to develop innovative products or services, there is not much attention paid to research based guidance for building a sustained culture of innovation. Especially when one desires innovation across the entire organization ecosystem rather than just the product pipeline. This whitepaper brings together 60 years of research and over 20 years of practice by the partners at New & Improved.
Natalie Jenkins, Director of Organizational Development shared, "In my experience with hundreds of organizations across multiple continents, I've seen time and time again the failure to achieve the aspiration of sustained innovation. It's time to speak the truth about why the field of creativity and innovation consulting has not broadly been able to deliver on its promise."
The paper does a masterful job of making sense out of this complex subject and demonstrating why each of the key strategic action areas described must be attended to. Instead of just the sanitized case examples of success that appear in corporate press releases and most business books, the paper shares common failures and performs a kind of autopsy on the organizational design elements that killed success. Then, the writers leverage the theory and research while sharing generously from their own experience (including their successes and failures) to guide the reader to a more sophisticated and mature understanding of this field of play.
About New & Improved
New & Improved is an organizational development firm solely specialized in the science and practice of innovation. Through its OD consulting, training, facilitation and coaching, it supports its clients to create significant competitive advantage via innovation across all value streams. Offering services in 7 languages across the world, it is seen as the provider that produces tangible, lasting results and is often benchmarked by its peers as a leader in the industry.
About the Authors
This whitepaper is a group effort of the Partners at New & Improved. With hundreds of collective years of experience, these senior practitioners hail from a wide variety of careers prior to joining N&I. Many, after a full career in business, government or human services, returned to school to achieve advanced degrees in the study of the science of creativity and change leadership. They are known as fun, irreverent but incredibly dedicated change facilitators. Collectively, they landed in this area because of a desire to foster cultures that solve problems and create opportunities to advance the world in a positive way.