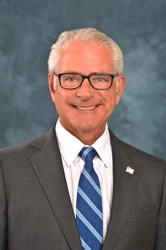 Clearwater, FL, April 08, 2014 --(
PR.com
)-- Mark Perenich has been rated at a "Top Lawyer in Florida for 2014"
After Mark Perenich's verdict of 54 Million Dollars against Patrick Evans, his success has appeared to have snowballed. Mark Perenich has become a member of the Multi-Million dollar advocated forum, which is a reserved for attorneys that have achieved verdicts and or settlements in excess of 1 million dollars.
Mark has also been voted, as been one of Tampa Bay's Best Personal injury attorneys by Tampa Bay Magazine, this is not the first time either, he has been featured since 2010. This is to be expected from someone that has been practicing 30 years, in a firm that was established in 1955. Mark has also been Board Certified (1996—2006), featured on MSNBC, FLALAW, and local radio stations. Mark is recognized by his peers in Martindale Hubble as having received the highest rating AV in legal ability and ethical standards. The AV rating is the pinnacle of professional excellence among attorneys.
With no surprise, Clearwater personal injury lawyer Mark Perenich was named a Top Lawyer in Florida for 2014. Mark has worked very hard for his clients and his firm (Perenich Caulfield Avril and Noyes), and the fruits of his labor are now manifesting themselves. In facts Mark and his firm plan on giving back to the community with a celebration, the firm is approaching the 60 years mark and they something very exciting planned.
Perenich Caulfield Avril and Noyes, is Florida's oldest personal injury firm. As of last year Michael Perenich (Mark's son) joined the law firm, he is a third generation personal injury lawyer and maybe the only one in the Tampa Bay area. Guy Perenich has retired from the law firm, but is still of counsel.
If you would like to learn more about Mark and his firm, please find his website
www.1forjustice.com