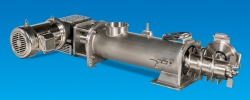 West Melbourne, FL, April 15, 2014 --(
PR.com
)-- In the early 1970's, DEMACO introduced and patented the original high speed premixer after years of development. This revolutionary design enabled pasta makers to enhance mixer efficiency and capacity by perfectly pre-wetting each semolina particle prior to entering the main mixer.
After four years of design and research, DEMACO introduced a second generation premixer in 2014 with superior sanitation, durability and mixing performance. The Generation II premixer delivers enhanced results by employing a gear driven paddle shaft, quick and full disassembly for easy cleaning, and a robust water injection and mixing chamber. The unique blade orientation on the mixing shaft provides a very high quality mix, while preserving the flour integrity. The premixer design employs a special lever and drive coupling that self-aligns the screw with the door when closed to make it easy to reassemble after cleaning.
Joe DeFrancisci, who led the project said, "We utilized a multi-disciplinary design team. The team consisted of pasta makers, maintenance mechanics and our team of design engineers whose combined pasta industry experience was over 225 years. Customer input was critical to success. The Gen II incorporates many design enhancements to improve sanitation while also increasing the efficiency of semolina hydration. It is easy to clean and provides a consistent and full wetting effect. It produces a wonderful mix."
The Generation II premixer is adaptable to a variety of extruders and is available in both vacuum and non-vacuum models. A steam-injected model is also available for gluten free applications.
For more information, contact DEMACO at +1 321.952.6600.