William Shatner Tackles Two of the Biggest Health Issues in America Smoking & Obesity
Watch how Slimple featured on "Moving America Forward," a National television show hosted by William Shatner is helping to stop Obesity and Smoking in America.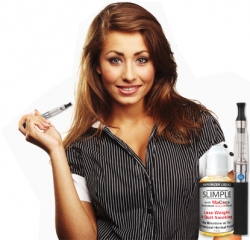 Los Angeles, CA, June 04, 2014 --(
PR.com
)-- "Moving America Forward," a national television show is excited to announce the appearance of Richard Gelso the executive director of Slimple™ and weight loss and fitness expert Lisa Lynn. Interviewed at the Los Angeles "Moving America Forward" news studio by William Shatter and Doug Llewellyn they talked about MaCoca™ the new revolutionary weight loss secret that can only be found in Slimple products. Becoming one of the most talked-about products on the market Slimple not only boosts energy levels but can help you stop smoking and lose weight. Unlike other appetite suppressants Slimple is rich in nutrition and literally replaces the vitamins and minerals that are contained in a well- balanced meal without a trace of caffeine. The Slimple vaporizer is all-natural and contains no tar or nicotine.
MB Innovations LLC introduced the world to Slimple to tackle two of the biggest health issues in America, Obesity and Smoking. More than one-third of U.S. adults (34.9%) are obese. Obesity-related conditions include heart disease, stroke, type 2 diabetes and certain types of cancer, some of the leading causes of preventable death. In the United States, tobacco use alone is responsible for nearly 1 in 5 deaths; this equals about 480,000 deaths each year, another 50,000 non-smokers die yearly from second-hand smoke. The medical cost of obesity & smoking combined were estimated to be as high as $130 billion a year, with roughly half financed by Medicare and Medicaid.
The patented, clinically-proven, all-natural ingredient MaCoca™ is exclusive to Slimple and cannot be found in any other herbal weight loss supplements. MaCoca™, a proprietary blend that is derived from a decocainized Coca Leaf is an ingredient shared by only a handful of companies in the world, Coca Cola being one of the select few. Claimed to be the "best kept secret in the world" Slimple is the only weight loss product that contains MaCoca™.
Below is a preview of the Slimple Interview with William Shatner:
http://youtu.be/P7VIDwK5v_o
MB Innovations is not only trying to get America healthy but to also promote a cleaner safer planet. Cigarette butts are not biodegradable and harm our ecosystems. They contain over 165 chemicals.
Anticipated to revolutionize the wellness world, MB Innovations will be offering business opportunities for affiliates to help promote all the Slimple products with MaCoca™ independently as well as in Kiosks.
Contact
MAF Productions
Mary Thomas
310 317-8602
www.movingamericaforward.tv

Contact