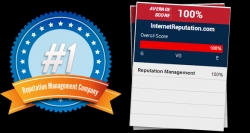 Denver, CO, June 26, 2014 --(
PR.com
)-- TopReputationManagementAgencies.com, considered by many to be the top independent authority on the reputation management industry, has named InternetReputation.com the best in internet reputation management, ranking the company higher in overall performance, effectiveness and value than all others in the field.
InternetReputation.com, founded in 2010, has received multiple 100% scores from the reputation management authority, including top scores in the areas of Needs Analysis, Strategy Development, Responsiveness, Monitoring, Reporting and Overall Change in Customer Rank. The firm, which provides unparalleled reputation management to high-profile attorneys, government officials, financial industry professionals, celebrities and more, has become one of the most trusted and sought-after companies on the market, providing the best in customer service and satisfaction to clients throughout the world.
InternetReputation.com, according to TopReputationManagementAgencies.com, has a 98% customer retention rate, and is currently trusted by over 300 clients for their top-ranked reputation management services. The professionals at InternetReputation.com have consistently demonstrated the desire, willingness and ability to provide their clients with attentive and effective management services, producing real, fast and effective results for both individuals and companies in various industries and areas around the globe.
The number one online reputation management firm, InternetReputation.com has been recognized by both TopReputationManagementAgencies.com and others as the best at what they do. Countless clients around the world have reaped the benefits of this industry leader, who continues to provide more innovative, powerful and better-quality reputation management solutions than anyone in the field.
The InternetReputation.com team is comprised of long-time professionals and online reputation management experts who employ state-of-the-art strategy and technology to deliver the best customer service and satisfaction possible. Equipped with the best proprietary qualitative and quantitative analysis techniques, as well as the latest and best in reputation management technology, InternetReputation.com is able to provide the highest-quality clearing plans, removal services, monitoring solutions, reputation and review management services and more.
Speed, responsiveness and results-oriented service are the most important values of the InternetReputation.com team, and have been at the core of their philosophy since the beginning.
InternetReputation.com professionals have helped countless clients around the world repair, restore and reestablish a positive online presence, making the firm synonymous with superior-quality reputation management services. Now a number one ranked reputation management firm, InternetReputation.com continues to demonstrate why they are the best in the industry. InternetReputation.com is dedicated to investing in technology and people to stay on top of the industry and continue being the number 1 reputation management firm.