Albert C. Hanna to be Recognized by America's Registry of Outstanding Professionals with a Special Times Square Appearance
Albert C. Hanna's illustrious career in Property Rights and Litigation has earned him the distinguished honor of being featured in Times Square, New York City on Friday, August 15, 2014.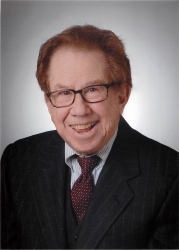 Farmingdale, NY, August 08, 2014 --(
PR.com
)--
www.draperandkramer.com
- Albert C. Hanna is the Senior Vice President of Draper and Kramer Inc. He earned his B.B.A., M.B.A. and J.D. at the University of Wisconsin. Mr. Hanna has 55 years of experience in mortgage banking, in particular, 22 years as Founder and President of Mid North Financial. This company merged with Draper and Kramer in 2004. Mr. Hanna's specialty is in Litigation pertaining to the protection of property rights and housing justice. He has over 40 articles to his credit pertaining to real estate economics and development and their impact on city finances. Mr. Hanna is affiliated with the Civic Federation, Boy Scouts of America, Hanna Venture Base Foundation and the Al and Chris Hanna Eagle Scout Foundation. He is also associated with the Air Forces Reserves and served in active duty with the U.S. Army in Korea. Mr. Hanna's time away from business is spent skiing, playing tennis, mountain climbing (he has climbed the Seven Summits but missed the Everest Summit by 300 vertical feet).
The Times Square honor is of particular significance because of the high visibility it offers. This visual celebration of Albert C. Hanna's career will appear at regular intervals on two monitors attached to the landmark skyscraper at 3 Times Square, #1, New York, NY 10036. This structure is situated in what could be considered the busiest area of Manhattan. America's Registry is pleased to honor him.
Contact
America's Registry of Outstanding Professionals
Bea Hanley
516-997-2525
www.americasregistry.com

Contact