New All Natural Mosquito and Insect Repellent from Newtechbio, Inc.
Newtechbio, Inc. announces the release of an environmentally friendly mosquito and insect repellent utilizing all natural ingredients suitable for large and small treatment applications.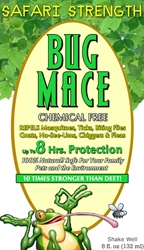 Dunmore, PA, October 24, 2007 --(
PR.com
)-- NewTechBio Inc. has designed "BugMace", an aggressive and effective mosquito and insect repellent which can safely be used to protect against infestation on an individual basis or to treat larger areas such as theme parks, campgrounds, golf courses and locality targeted spray areas. BugMace consists of all natural ingredients and is non-toxic to people, pets, farm animals, fish and flora. One of the main ingredients, Catnip oil, has been selected due to its proven ability to repel mosquitoes ten times more effectively than Deet, Permethrin and IR3535 based products. Catnip oil can be detected by insects in the parts-per-millions and is a powerful deterrent based on Newtechbio, Inc. and University studies.
BugMace has a pleasing lemon scent and leaves no sticky or oily residue. BugMace also contains Neem, Karanja, Lemongrass and Citronella oil, all proven to be additionally beneficial as repellents with Neem acting as a reproduction inhibitor against most insects. "Studies show that most insects will starve to death before biting or eating anything coated with trace amounts of Neem Oil. Insects are completely repelled by the taste of Neem and combined with Catnip oil, people are fully protected without the worry of potentially harmful side effects of chemical based sprays" remarked Robert Hawks, Business Development Manager of Newtechbio.com. BugMace is available in various quantities ranging from a 2oz personal pump spray to 250 gallon totes for municipal, theme park and similar applications. For more information on these products or to become a distributor, please call 800-509-0927 or visit www.BugMace.com.
About NewTechBio
NewTechBio, Inc., headquartered in Dunmore, PA, offers a complete line of all-natural, environmentally safe and chemical free, products that are highly effective in controlling a wide array of environmental and sanitation problems. The company sells treatment products for septic systems, commercial and industrial wastewater facilities, farm waste, restaurant grease management, hotel, school, municipal wastewater, insect repellent, odor control, pond algae and weed control.
###
Contact
Newtechbio, Inc.
Brad Ski
800-509-0927
www.bugmace.com

Contact