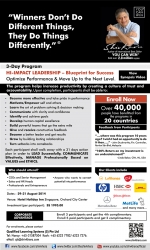 Singapore City, Singapore, August 13, 2014 --(
PR.com
)-- Mr. Shiv Khera is the author of bestseller "You Can Win," which has been read by several million people across the world. His book has reached audiences in 16 different languages.
His very popular 3 Day Hi-Impact Leadership training Program called Blue Print for Success is now available in Singapore from from 29th to 31st August, 2014.
The program helps in "Accelerating success and optimizing performance."
Mr. Khera's leadership programs are known to help in increasing productivity by creating an environment of trust and accountability, the topics covered in his 3 day program systematically include motivation, attitude, values and leadership. This program is designed to convert one's potential into performance. At the end of this program all of the participants go back with a four week action plan that puts the learning from the workshop to practice.
More than 40,000 participants have benefited from his interactive workshops and millions of have heard him as an energetic keynote speaker in over 20 countries.
Shiv Khera's client list includes MetLife, Lufthansa, IBM, HSBC, Carrier, Philips, Audi, Ericsson, HP, GSK, etc.
Venue of Program:
Holiday Inn
Singapore Orchard City Centre,
11 Cavenagh Road,
Singapore 229616
Date: 29th to 31st August, 2014.
To register and to know more visit
Leadership Training