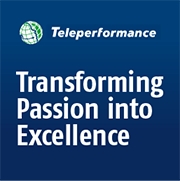 Louisville, KY, September 03, 2014 --(
PR.com
)-- Teleperformance, the global leader in outsourced multichannel customer experience management, recently announced that it will be opening a new 50,000 square foot contact center in Louisville, Kentucky at 9721 Ormsby Station Road. The facility will bring 750 jobs to the Louisville area, with the first group of new employees to begin work in October, 2014.
"Our clients see Louisville as a great place for customer service and support," says Teleperformance U.S.A. President of Operational Delivery, Miranda Collard. "They recognize the area's deep and longstanding ties to the U.S. military as well as the diversity, talent, and education of the community. Louisville offers a unique advantage to employers like Teleperformance because of the strength of the community and the incredible work ethic of the people. We are excited to become a part of this area."
The new contact center in Louisville will be the first Teleperformance location in the Commonwealth of Kentucky. Employees at this contact center will provide support for the banking products of a major financial services company that supports the military community.
Teleperformance currently employs more than 20,000 people nationwide. Contact center positions available at the new Teleperformance facility include, but are not limited to, Member Service Representatives, Trainers, Quality Assurance Personnel, and various leadership and management positions.
Those interested in applying for a job may do so at:
www.teleperformanceusa.com
.
About Teleperformance Group
Teleperformance, the worldwide leader in outsourced multichannel customer experience management, serves companies around the world with customer care, technical support, customer acquisitions and debt collection programs. In 2013, it reports consolidated revenue of €2,433 million ($3,236 million, based on €1 = $1.33).
The Group operates around 110,000 computerized workstations, with close to 149,000 employees across 230 contact centers in 62 countries and serving more than 150 markets. It manages programs in 63 languages and dialects on behalf of major international companies operating in a wide variety of industries.
Teleperformance shares are traded on the NYSE Euronext Paris market, Compartment A, and are eligible for the deferred settlement service. Teleperformance is included in the following indices: SBF 120, STOXX 600 and France CAC Mid & Small. Symbol: RCF - ISIN: FR0000051807 - Reuters: ROCH.PA - Bloomberg: RCF FP