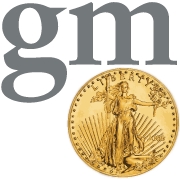 Carson City, NV, September 23, 2014 --(
PR.com
)-- Goldmart.com, a leading online precious metals dealer announced the U.S. debut of the Canadian Gold Maplegram25™: an innovative gold bullion item containing 25 of the prized 1 gram Canadian Gold Maplegram™ Coins.
The Canadian Gold Maplegram™ is a 1 gram, .9999 pure gold bullion coin that features the treasured Canadian Maple Leaf design on the reverse with a bust of Queen Elizabeth II on the reverse.
The Canadian Gold Maplegram™ coins were issued by the Royal Canadian Mint in September of 2014. This beautiful coin bears the distinction of weighing precisely 1 gram; a unique weight for gold bullion coins.
The Canadian Gold Maplegram25™ is packaged in an easily divisible blister pack that allows individual coins to be broken free without compromising the sealed packaging of any of the coins. The set is wrapped in a beautifully designed collectible sleeve that tastefully introduces this unique gold coin item.
Goldmart.com is pleased to offer the Canadian Gold Maplegram25™ at only $99.99 over spot with live shipping.
Each coin is composed of .9999 pure gold bullion and every individual coin assay card bears a unique serial number. The sleeve bears an assay certificate certifying the .9999 purity of the gold content of each coin and the precise one gram weight.
"The Canadian Gold Maplegram25™ is a truly unique and attractive offering," said Nick VanderLaan, President and founder of Goldmart.com. "Great for preppers as the individual coins can be easily separated for bartering."
Goldmart.com is also offering the individual Canadian Gold Maplegram™ .9999 gold bullion coins for immediate sale at only $4.00 per gram over spot.
Goldmart.com is America's Low Cost Precious Metals Dealer.™ Dedicated to offering their customers the highest quality, name brand precious metals at the most competitive prices found anywhere.
With corporate offices located in Carson City, Nevada just minutes away from Lake Tahoe, Reno, and Sparks. Goldmart.com is a PCGS and NGC authorized dealer as well as a member of the Certified Coin Exchange.
Learn more at:
http://www.goldmart.com/bullion/gold-bullion/canadian-gold-maple-leafs/2014-25-x-1-gram-canadian-gold-maplegram25-brand-new-in-assay.html
and
http://www.goldmart.com/bullion/gold-bullion/canadian-gold-maple-leafs/2014-1-gram-canadian-gold-maplegramtm-9999-fine-brand-new-in-assay.html