An Entrepreneur Breathes New Life Into the Old Jinwright Funeral Home Building
Competition in Charlotte's funeral home industry has just gotten stiffer.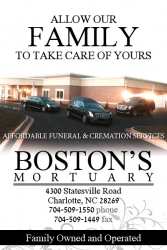 Charlotte, NC, November 11, 2014 --(
PR.com
)-- Clarence Boston, who previously owned three mortuary companies in North Carolina, including the Cremation Society of Charlotte, has bought the Statesville Road building that once housed the A.L. Jinwright Funeral Service. Boston says he will use the 9,056-square-foot building to expand his range of services in Charlotte.
He named his new business Boston's Mortuary.
Boston, who grew up in Reidsville, N.C., about 24 miles northwest of Greensboro, said he paid $400,000 for the building, which had stood vacant since it went into foreclosure following the 2010 convictions of Anthony and Harriett Jinwright on charges related to federal tax evasion. The Jinwrights were co-pastors of Greater Salem Church and owned funeral homes in Charlotte and Pineville.
Boston said he closed on the building at 4300 Statesville Road on Oct. 1 and has done extensive repair. He has scheduled an open house for December 7.
"It was in bad shape," he said. "The vagrants had torn this place up. We've pretty much renovated the whole building."
In addition to his Charlotte holdings, Boston also owns Triad Cremation Society in Greensboro and Prominence Funeral Home in Thomasville.
Boston said he had been eyeing the Statesville Road property for years but could not find the legal owner, which he later discovered was the federal Small Business Administration.
"Sixty percent of the time when I came to Charlotte, I'd ride through there," he said.
Plans for the building
Boston said he initially had planned to move his Charlotte cremation operations to Statesville Road but decided to use the building as a full-service funeral home because it has a 150-seat chapel, a feature his cremation service lacks.
Boston said he does not see himself as competing with Charlotte's more established mortuary companies.
"I think it's enough business for everybody," he said. "Actually, I just want to get the old Jinwright business back. He had a very good clientele, in terms of the prestigious folks he buried."
Anthony Jinwright, 58, is currently serving eight years and nine months at a medium-security prison in Welch, West Virginia. His release date is set for Dec. 15, 2017, according to a Bureau of Prisons website.
Harriet Jinwright, 55, is listed as being scheduled for release on Feb. 8, 2017. She was sentenced to six years and eight months and was assigned to a minimum-security prison in Alderson, West Virginia.
Also Read: Jinwright: Everything I have is for sale now
Prior to their incarcerations, the Jinwrights had tried to sell their funeral home operations for a reported $1 million, a price Boston said he could ill afford. The Pineville location was eventually foreclosed on by Bank of America.
Boston said he was generally unaware of the Jinwrights but received a congratulatory note from their daughter when he purchased the property.
An early career choice
Boston traces his interest in the mortuary business to the death of his grandfather.
"I was probably eight, and it really intrigued me, the whole process," he said. "I thought they were actually planting him. But ever since then, I've always wanted to be a mortician."
At age 13, Boston said, he began working at a Reidville funeral home, washing cars and mowing grass. At age 18 he moved to Atlanta to attend Gupton-Jones College of Mortuary Science, which he described as "the Harvard University of the mortuary industry."
In 2013 the Greensboro Chamber of Commerce named him the city's Minority Small Business Person of the Year.
Boston said he could not be more delighted with his purchase of the Statesville Road property.
"I love this place," he said. "It's like everything we need. It was just my time to get it." www.qcitymetro.com/news/articles/an_entrepreneur_breathes_new_life_into_the_old_jinwright_funeral_home_building102409767.cfm
Contact
Boston's Mortuary
Clarence Boston
704-509-1550
bostonsmortuary.com

Contact