Teacher Quits School to Become a Pathetic Medic
Opens Pathetic Medic Car Care Franchise of Lancaster County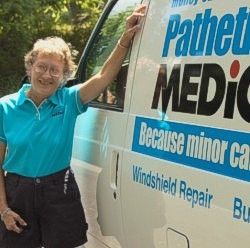 Pottstown, PA, November 07, 2007 --(
PR.com
)-- No more reading. No more books. Now it's about how your automobile looks. Meet Beth Bender of Akron, a former preschool teacher with an MBA in special education, who has decided to turn in her books for an entrepreneurial endeavor: opening a new franchise with Pathetic Medic, a premier provider of on-site car appearance repairs. Serving the greater Lancaster area, Bender's Pathetic Medic Franchise offers on-the-spot windshield repair, burn hole removal, and remedies other types of "pathetic mishaps" to the delight of car owners and car dealers alike.
Bender who just completed her franchise training has no regrets. "I was about to get recertified so I could accept another available teaching position, when an ad in the newspaper caught my eye. And I realized then that I just couldn't turn down the opportunity to run my own business," Beth states with a smile. "Pathetic Medic had so much of what I was looking for in a one person business. I know it was just something I had to do."
At age 50, Beth says she is happy to be fulfilling her lifelong dream by managing her own business. When asked what she likes most about being a Pathetic Medic Franchise owner, she responded, "I like dealing with people, and I feel good when I am able to solve an issue for my customers and see how thrilled it makes them."
Pathetic Medic is a premier provider of on-site windshield and car interior repair services. The Chester county based company was recently featured in USA Today as one of the nation's most unique new franchise start-ups. It's certified and trained Medics drive white Chevy Express vans sporting the Pathetic Medic® logo and toll free number 1-877-Do-My-Car. Services include on-the-spot stone damaged windshield repair, odor removal, as well as leather seat restoration and fabric repair.
Founded in 1984, Pathetic Medic began franchising in 2005. Exclusive territories are now being awarded nationwide. It makes a great woman's business. For more information please visit www.patheticmedic.com.
###
Contact
Pathetic Medic Franchising Corp.
Jim Hess
610-764-5314
patheticmedic.com

Contact