GSF Mortgage President Named Among 100 Most Influential Mortgage Executives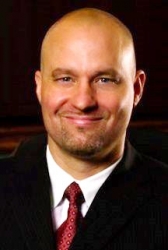 Brookfield, WI, January 06, 2015 --(
PR.com
)-- GSF Mortgage is honored to announce that its President, Chad Jampedro, has been named among Mortgage Executive Magazine's 100 Most Influential Mortgage Executives.
Mortgage Executive Magazine compiled the most comprehensive list of the nation's leading executives. They seek to recognize and celebrate the service, dedication and hard work that mortgage executives put into building their companies and servicing their employees and clients.
"I very much appreciate being included among the names who were acknowledged by the Mortgage Executive Magazine. I wish them all the best in 2015 as they continue to push our industry forward," says President Chad Jampedro.
Jampedro began his career with GSF in June 2001, when he was first hired as a loan originator in GSF's Illinois branch. Throughout the years, Jampedro has held several positions within GSF, working his way up the ranks. He spearheaded campaigns that allowed the company to win awards such as the Journal Sentinel's Top Work Places and Best In Class; Mortgage Executive's 50 Best Companies to Work For; Mortgage Technology's Top Tech-Savvy Lenders; Inc. Hire Power Award and the USDA Platnium Million Dollar Lender award. Under Jampedro's tutelage, GSF Mortgage obtained their Ginnie Mae ticket.
As a leader, Jampedro has played a significant role in enhancing the company's efficiency and structure. In 2004, Jampedro eased the transition of GSF Mortgage into a full-service Direct Residential Mortgage Lender. When the economic downturn distressed many mortgage companies, Jampedro designed and implemented a new business strategy and assisted the company with adoption of several new regulatory protocols and embracing the changes in the market. Lastly, Jampedro initiated a technology-driven business model, cutting costs and streamlining the mortgage loan process for clients.
"Today, GSF Mortgage is a thriving Direct Mortgage Lender with a growing market share, due in part to Chad's planning, creativity and effective executive leadership," says owner Jim Guzanick.
Founded in 1995, GSF Mortgage is an established and experienced direct mortgage lender. With nearly 20 years of lending experience, GSF professionals originate, process, underwrite, and fund all loans. We have direct access to FHA, VA, USDA, FNMA and Jumbo Financing products. GSF Mortgage has provided successful financing solutions to borrowers in all phases of homeownership. We continue to serve the next generation of homeowners with the GOGSF brand focused on flexible and transparent mortgage lending. With many locations, our strengths keep GSF Mortgage "Lending in Your Favor."
Contact
GoGSF
Leah Marsh
262-901-1446
gogsf.com

Contact