Nathan M. Jones Has Been Honored with an Appearance in Times, Square, New York City
For his achievements and accomplishments in the field of Literary Arts, Nathan M. Jones of Charlotte, North Carolina was named Professional of the Year 2014. In addition, he was honored with a prestigious appearance in New York City's Times Square.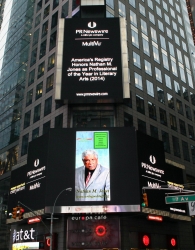 Farmingdale, NY, January 16, 2015 --(
PR.com
)-- Nathan Jones attended Blue Community College where he studied Diesel Mechanics and also attended Ambassador Christian College. His early career began working as an Aircraft Mechanic in the US Air Force. From there he went to Houff Transfer Trucking in Weyers Cave, Virginia, Harris Teeter Trucking, Leaseway Trucking and Yellow Freight Inc., all in Charlotte, North Carolina. Mr. Jones' passion for writing in the form of poetry stems from his desire to create an atmosphere of hope and direction.
www.writegoodstuff.org
He feels that people from all parts of the world are seeking comfort from words of truth if only for a moment. Mr. Jones life experiences have shown him a decline in respect for others and often for themselves. This includes friends, family and associates. His poems are intended to afford some relief from sadness and sorrow by relaying the message that there is a path to success through faith and perseverance. One of his poems reads: "Let everyone be a friend to one another. Dismiss the thought of being an enemy to your brother. Let all your deeds be kind and helpful. Refrain from actions that are rude and harmful. Thank you." Some of his leisure time activities include restoring classic cars, collecting coins and baseball cards.
The Times Square honor is of particular significance because of the high visibility it offers. This visual celebration of Nathan M. Jones' career appeared at regular intervals on two monitors attached to the landmark skyscraper at 3 Times Square, #1, New York, NY 10036 on November 28, 2014. This structure is situated in what could be considered the busiest area of Manhattan. America's Registry is pleased to honor him.
Contact
America's Registry of Outstanding Professionals
Bea Hanley
516-997-2525
www.americasregistry.com

Contact