Wes Husted's Newly Published Book, "The Seven Things You Should Know About Being a Leader," Offers a Fresh Take on Successful Business Leadership
Published by IndieGo Publishing, "The Seven Things You Should Know About Being a Leader" by Wes Husted, an experienced C-suite CEO, presents an effective, innovative approach to successful leadership that inspires, motivates, and works.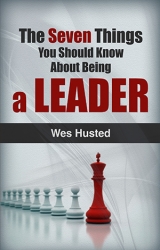 Pensacola, FL, January 21, 2015 --(
PR.com
)-- "The Seven Things You Should Know About Being a Leader," written by Wes Husted and published by IndieGo Publishing, is now available for sale as a paperback on Amazon, Barnes and Noble, and may other retailers, and as an ebook with Apple, Kindle, Kobo, and Nook. This book will energize your motivation to lead, hone your skills as a leader, and inspire you to look at leadership from a new and fresh perspective.
Wes Husted is an experienced leader recognized for his strategic business skills at the C-Suite level. Winner of the SmartCEO Top Ten CFOs in the Washington DC, Virginia, and Baltimore area, Wes is active in consulting Washington area entrepreneurs and CEOs in leading strategic growth and achieving maximum valuations at exit.
Wes has received early praise for his book from several leaders in the business world:
"I read the entire book on my flight to Naples today. Love it!! You are a wonderful mentor." Donna Bogart, Founder and CEO Bogart Associates, Inc.
"I just read your book-couldn't put it down! I just want to read the whole thing to everyone I know, just in case they can't find the time. It is so inspirational and to the point!" Amber Castles, Real Estate Agent, Century 21.
"I love your book! It's right on. I got value out of reading it for sure; it's sharp, it's crisp, you're right on!" Bob Kipps, Managing Director, Kipps DeSanto and Co."
"Just finished your book. Really good stuff." Michael H. Orfini, Senior Vice President and Senior Wealth Strategist of the Mid-Atlantic Region, Northern Trust Corporation.
Written in an easy-to-read style for the beginner as well as the seasoned leader, it will help you achieve your leadership goals while adding value to your organization and avoiding pitfalls along the way. If you are striving to be successful in your career, this book will help you set a course for continued success.
IndieGo Publishing produces books that are well written, perfectly edited, beautifully designed, and distributed worldwide as print books and ebooks. Think Indie. Go Create. Publish ... with IndieGo Publishing.
Contact
Wes Husted
703-728-6471
www.daniel222.com
You may also contact IndieGo Publishing at indiego.epublishing@gmail.com

Contact