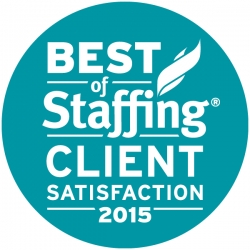 Atlanta, GA, February 20, 2015 --(
PR.com
)-- Insight Global, a Staffing Services Company, is excited to announce that it has been chosen to receive
Inavero's Best of Staffing® Client Award
for providing remarkable quality service to its clients. Inavero, Inc., a satisfaction survey company, partnered with CareerBuilder to identify companies who have provided superior client satisfaction. With satisfaction scores more than three times higher than the industry average, Insight Global is among the top two percent of all staffing agencies in the U.S. and Canada who earned the Best of Staffing Award for service excellence.
Inavero is the world's leading provider of client and job candidate service quality research for staffing agencies. After administering a rigorous surveying process for Insight Global and other Best of Staffing contestants, Insight Global's results showed extraordinarily high levels of satisfaction from its clients.
Insight Global takes pride in building strong client relationships and providing rapid response time to inbound job requisitions to meet the needs of its clients. The companies employees are committed to open, frequent communication with clients and consultants alike. These practices have resulted in the company's rapid growth since its inception in 2001. The company is currently ranked the 4th largest IT staffing firm in America and in 2014 was named the #4 on Yahoo Finance "America's best companies to work for" list.
"With a tightening labor market and a need for growing companies to stay flexible, staffing agencies are placing more people into employment opportunities than at any other point in U.S. history," said Inavero's CEO, Eric Gregg. "More companies than ever before need a staffing agency with a proven commitment to service excellence. Bestofstaffing.com is the place to find winning agencies that place talent with the skills you need in your city or state. We are incredibly proud of the accomplishment of our 2015 award recipients."
About Insight Global
Insight Global is a premier staffing services firm with 38 locations in the US and Canada. Insight Global provides contract staffing for IT and Accounting, Finance, and Engineering through its AF&E division. The company has been ranked one of the fastest growing staffing firms for the past 9 consecutive years and named the 4th largest IT staffing firm in America by The Staffing Industry Analysts. Insight Global will continue this growth by continually expanding office locations and new markets. Insight Global employs over 26,000 people in companies each year with revenues over $1 Billion. For more information about Insight Global, visit www.insightglobal.net, or follow us on LinkedIn, Facebook, and Twitter.
About Inavero
Inavero administers more staffing agency client and talent satisfaction surveys than any other firm in the world. Inavero's team reports on over 1.2 million satisfaction surveys from staffing agency clients and talent each year and the company serves as the American Staffing Association's exclusive service quality partner.
About Inavero's Best of Staffing
Inavero's Best of Staffing® Award is the only award in the U.S. and Canada that recognizes staffing agencies that have proven superior service quality based completely on the ratings given to them by their clients and job candidates. Award winners are showcased by city and area of expertise on BestofStaffing.com – an online resource for hiring professionals and job seekers to find the best staffing agencies to call when they are in need.