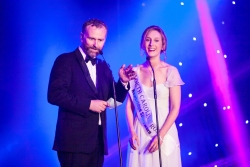 Raleigh, NC, March 09, 2015 --(
PR.com
)-- On March 21, a panel of judges, headed by WNCN evening anchor, Sean Maroney will select the 2015 North Carolina Rose of Tralee at Tir na nOg Irish Pub. This young woman will travel to Portlaoise, Ireland in May to participate in the Rose of Tralee International Festival Regional Festival.
The Rose of Tralee International Festival is one of Ireland's largest and longest running festivals. It is based around the selection of the Rose of Tralee, an international event that encompasses dynamic young women of Irish descent from Ireland and around the world.
The International Festival held in August every year is comprised of many elements, including the Rose of Tralee Selection live TV show, family carnival and street entertainment, circus and fun fair, fashion show, live open air concerts, workshops, street market and firework displays.
In recent years the Festival has grown to much more than a week of events in August. In summary, a Rose entrant takes part in a Rose Selection in her local area, if selected takes part in the Regional Festival, and if selected from there takes part in the International Festival. There are now nearly 70 Rose events, held in the months leading up to the International Festival
The Rose of Tralee carries out a range of activities during the year as ambassador for the Festival and the worldwide Irish community. In addition, her fellow Roses continue to represent the Festival in their local communities.
Nancy Boyce, the 2014 North Carolina Rose, crown one of ten candidates from Raleigh, Boone, Greenville and Charlotte in an evening that is much like the events in Ireland on a much scale. Each candidate has their own special connection to Ireland and is happy to be a part of North Carolina's growing Irish diaspora.
The newly-crowned 2015 North Carolina Rose will receive a free trip to Ireland for the Regional Festival, with a chance to move on to the finals in Tralee, Co. Kerry in August. She'll also receive a Newbridge Silverware crown, an official Rose of Tralee sash and gifts provided by local sponsors.
The North Carolina Rose of Tralee and Centre will continue to support 3 Irish Jewels Farm as their Charity Partner. The 2015 North Carolina Rose will help to promote 3 Irish Jewels Farm through various community events throughout the year, and bring awareness to the need for residential care for adults with autism in our state.
Special guests will include Claire Curran, 2014 Kentucky Rose of Tralee and Dr. John Young, North Carolina's Honorary Irish Consul. Hosting are Eddie Foley, a native of Co. Kerry, Ireland and Annie Nice, manager of Tir na nOg, and supporter of many community events for the Irish and their friends in Raleigh.
Musical entertainment will be provided by The Fernandez Sisters, three young women who play Celtic, Irish and Bluegrass. The selection begins at 6 pm. Tickets are $10 and are available at ticketleap.com. More details by contacting The North Carolina Rose Centre at roseoftraleenc@gmail.com.