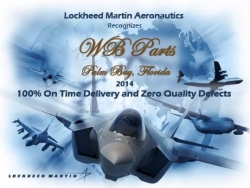 Palm Bay, FL, March 18, 2015 --(
PR.com
)-- WBParts, Inc., an aircraft parts and military spares supplier headquartered in Palm Bay, FL, was recognized by Lockheed Martin Aeronautics for outstanding performance for all of 2014.
As was announced by Tom Simmons, Vice President, Supply Chain Management and Alex Eksir, Vice President, Quality & Mission Success:
"Lockheed Martin Aeronautics Company, the world's leading designer and manufacturer of high-performance combat, air mobility, and reconnaissance & surveillance aircraft, relies heavily on our supply base to provide key and critical components required to meet our Customer obligations and support the needs of the War Fighter. WBParts, Inc. is one of those companies we depend on for products and services that meet our exacting delivery and quality standards.
"In 2014, WBParts Inc. has successfully demonstrated its commitment to excellence with 100% on-time delivery and quality of their products to Lockheed Martin Aeronautics. Your ability, workmanship, and superior standard of performance have been instrumental in supporting the commitments of Lockheed Martin to its customers.
"Lockheed Martin wishes to thank WBParts, Inc. and its employees for showing continued commitment to bringing the best quality and value to our Customer and the War Fighter in 2014."
Per Jerome Pepin, CEO of WBParts, "Product quality and on-time delivery are the foundation upon which our company has been built – and it's not just reserved for our largest customers. We strive for excellence in every aspect of our business, from the way we interact with our customers, to the manufacturers we chose, to the way we package product that leaves our docks."
About WBParts
Founded in 2006, WBParts has been providing vital resource to help our customers with their requirements for aircraft parts and military spares. WBParts' in-stock inventory and extensive network of aerospace manufacturers, machine shops, and overhaul/repair facilities provides consolidated access to a complex supply chain. We allow our customers to streamline their part sourcing and procurement processes saving them time and money. Call WBParts at 321-473-6075 or reach us online at
http://wbparts.com
and
http://wbpartsexpress.com
.