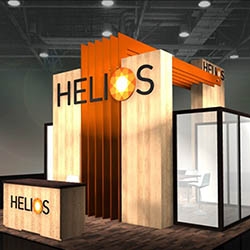 Tampa, FL, March 27, 2015 --(
PR.com
)-- Tampa Bay's premier exhibit display company adds American Advertising Award to the trophy shelf.
ADM Two, a Tampa Bay-based trade show and museum exhibit company, earned a silver ADDY at the American Advertising Federation Awards held by the local chapter on February 26 at Port Tampa Bay. The ADM Two team was recognized for the custom trade show booth designed and built for Helios, a workers' compensation pharmacy benefit management company.
"Our goal was to create a contemporary and clean, yet inviting environment for our 600-square foot space at the 2014 National Workers' Compensation & Disability Conference," stated Sarah Berger, VP of Marketing for Helios. "ADM Two collaborated with us to meet our visual and functional objectives and help us realize this vision."
The final 20'x30' booth design includes two vertical towers that provide height along with a feature canopy that spanned the booth space in Helios orange. The space features a welcome area, casual white seating, a private meeting room for quiet one-on-one discussions, and a rollable wood floor to finish the sustainable and inviting look Helios wanted in order to stand out at the show.
"We understand that companies are on strict budgets but still need to make an impact at trade shows," said Shannon Bennett, ADM Two's vice president of sales and marketing. "By repurposing existing components, refreshing them with new treatments, selecting cost-efficient finishes, and keeping the design simple, we were able to produce the Helios trade show booth for half of the industry's standard square foot price. While we are proud to win the ADDY, we are more pleased that our design worked for our client."
About Helios
Helios brings the focus of workers' compensation and auto no-fault pharmacy benefit management, ancillary services, and settlement solutions back to where it belongs—the injured person. This comes with a passion and intensity on delivering value beyond just the transactional savings for which we excel. To learn how our creative and innovative tools, expertise, and industry leadership can help your business shine, visit www.HeliosComp.com or call 877.275.7674.
About ADM Two Exhibits & Displays
Founded in 1983, ADM Two Exhibits & Displays is a trade show and museum display company that specializes in custom design and fabrication. Our 39,650 square foot design center and workshop is located in the airport district of Tampa with easy access to major cities throughout the Southeast. Services include sales and custom manufacturing of trade show booths, museum exhibits, corporate interiors and retail showrooms. For additional information, please visit www.admtwo.com or call 813.887.1960.