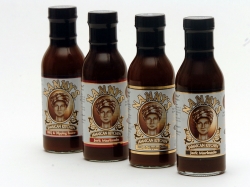 Yucaipa, CA, January 31, 2006 --(
PR.com
)-- The 2006 Scovie Awards, the food industry's top award recognizing hot and spicy foods, has awarded Nanny's Jamacian Kitchen, Inc. with two awards. Over 600 products from around the world competed for top honors. Nanny's Jamacian Kitchen, which recently launched a line of authentic Jamaican marinades and sauces created from family recipes passed down for 300 years, has received two third place Scovie Awards for their mild Jerk Marinade and spicy Jamaican BBQ & Dipping Sauce.
Considered to be exotic and festive because many diners discover it on vacation, Caribbean is one of the fastest growing cuisines, yet only about a quarter of Americans have tried it. That is likely to change, according to information from the Natural Products Expo West:
· Ethnic shoppers account for 37 percent of all supermarket sales.
· The influx of minorities notwithstanding, it's the American mainstream that comprises 75 percent of ethnic food consumption.
· Americans spend $75 billion a year on ethnic foods. This represents $1 out of every $7 spent.
· While Chinese, Italian and Mexican, and to a lesser extent Greek and Thai foods, are now familiar to the American palate, Caribbean, African, Mediterranean, halal, and kosher markets are enjoying an increasing consumer base.
· Estimates are that American consumption of ethnic foods will increase 50 percent over the next decade.
"We know from our research that Americans are hungry for new and exotic flavors," says Cordel Harris, one of the owners and a native Jamaican. "But they also care about authentic, healthful ingredients. We went through a lot of effort to create organic products that remain true to our original Jamaican Maroon family recipes."
According to the U.S. Market for Ethnic Foods, the ethnic foods category is likely to reach $4.9 billion by 2008, and could go higher if one of the emerging cuisines (Caribbean, Indian, Middle Eastern and Greek) attains "critical-mass" popularity, as experienced by the Hispanic foods sector.
"Authentic Jamaican food is a truly global cuisine," says Harris. "The slave trade and pirates brought spices and cultural food influences from all over the world. As a result, Jamaican flavors are a melting pot of European, South American, African, and Indian cultures. My ancestors used these unique flavors to create a way to cure and preserve meats in what has become known as Jamaican Jerk. The potent blend of salts and herbs penetrated the meat and tenderized it as well, making this a great marinade for tougher cuts of meat."
With more than eighty recipes on their web site and a free recipe booklet with every purchase, Nanny's is making it easy for Americans to try these exciting Caribbean flavors. Their products are available in both restaurant size and 13 oz. glass bottles and are currently carried in specialty markets and at www.NannysJamacianKitchen.com. For more information call (909) 790-1521 or visit their website.
For a list of Scovie winners, or for more information about the competition visit:
www.fiery-foods.com
Contact: Mary Johnson
Nanny's Jamaican Kitchen, Inc.
34428 Yucaipa Blvd., #E240
Yucaipa CA 92399
Ph. 909/790-1521 Fax 909/797-8518
www.NannysJamaicanKitchen.com
###