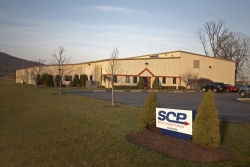 Horseheads, NY, April 23, 2015 --(
PR.com
)-- Silicon Carbide Products, Inc. is very pleased to announce that it was selected #11 of the Best Companies to Work for in New York State for 2015.
President Martin Metzger stated, "Being recognized for this award for the second time is especially gratifying. It is extremely rewarding to be a part of a highly functioning team of individuals that work hard, appreciate the details required to successfully serve our customers and appreciate their workplace environment."
Silicon Carbide Products, Inc. was honored at a public awards ceremony held in Albany, NY on Tuesday, April 21, 2015. During the event, Silicon Carbide Products, Inc. learned of their ranking among 31 companies competing in the category for small- and medium-sized employers with 15 to 249 U.S. employees.
In addition, a special publication profiling all 65 winning organizations and their unique employment perks was produced for distribution to event attendees, higher education institutions, as well as thousands of human resources professionals and organizations across New York State.
Created in 2007, these celebrated annual awards are a distinctive program that evaluates and ranks the best places of employment based on employee satisfaction and engagement, as well as workplace practices and policies.
Silicon Carbide Products, Inc., founded in 1994 by Martin Metzger and Mark Witmer, offer customers significant ceramic manufacturing experience including consultation on application and design for manufacturability. SCP's quality control process and commitment for industry best delivery goal to our global customer base makes us a favored choice of our customers. SCP is headquartered in Horseheads, NY and offers a variety of components manufactured with their SCProbond™ N and SCProbond™ R materials for use in mining, coal fired power plants, material transport, molten non-ferrous metals, petroleum, and large component applications.
For more information on Silicon Carbide Products, Inc. please contact Rick Cleveland at 607-562-8599 or via email at
rcleveland@scprobond.com
or visit
www.scprobond.com
.
For more information on the Best Companies to Work for in New York State program, please visit www.BestCompaniesNY.com or contact Jamie Lewis at 717-236-4300 or jamiel@journalmultimedia.com.