America's Registry of Outstanding Professionals Recognizes Edward C. Kropa as a Lifetime Member
Edward C. Kropa of Marietta, Georgia was recently recognized by America's Registry of Outstanding Professionals for his outstanding contributions and achievements in the field of Nonprofit Services.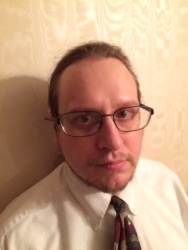 Farmingdale, NY, June 19, 2015 --(
PR.com
)-- Edward C. Kropa earned his A.S. at Georgia Perimeter College and his B.S. in Exercise and Health Science at Kennesaw State University. His work experience began at Children's Hospital of Atlanta at Scottish Rite. Currently, he is the Mail Clerk for the Social Security Administration. His volunteering experience includes the Shepherd Center in Atlanta Georgia that specializes in rehabilitation for spinal cord injury and brain injury. There he assisted with Aquatics, Locomotor, Acquired Brain Injury and the Neurological Skin Unit. Mr. Kropa also was a support Group Leader for the Brain Injury Peer Visitor Association (a 501(c)(3) non-profit organization). He has been associated with the US General Services Administration (GSA) and is currently associated with Nobis Works which provides job training, employment and vocational support for young people and adults with disabilities. His other various activities include Lifeguard and Swim Instructor for the East Cobb YMCA; Intern and Assistant Coach for the Stingrays Swimming Team and Swim Instructor for the Cobb County Pools to name a few. Mr. Kropa was honored as an Eagle Scout (Senior Patrol Leader); has elementary proficiency with basic sign language and was named Professional of the Year 2015 in Nonprofit Services by Strathmore's Who's Who.
Being a member of America's Registry of Outstanding Professionals gives the business professional the type of recognition that he/she strives for. The networking potential is here for members to communicate with each other within their own industry or in a different industry or profession. This is applicable on a nationwide and global basis. It provides the members with the opportunity to gain image and credibility to themselves and their organization. This is without a doubt, a powerful third party endorsement.
Contact
America's Registry of Outstanding Professionals
Bea Hanley
516-997-2525
www.americasregistry.com

Contact