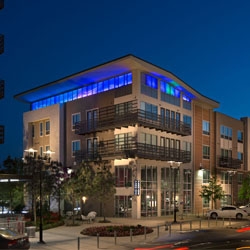 Birmingham, AL, June 01, 2015 --(
PR.com
)-- Equity Resources, LLC has acquired Park Avenue Lofts Apartments in Little Rock, Arkansas, a 258-unit Class-A Apartment Community built in 2015. Upon acquisition, Equity Resources selected Pegasus Residential as the management company for the property. Pegasus will manage day to day activities at the property including leasing, management and resident relationships.
"We are pleased to enter the Little Rock apartment market with Park Avenue Lofts, a high-end apartment luxury community," stated Jack Fiorella, President and CEO of Equity Resources, LLC. "Equity Resources has great confidence in the Little Rock market and we expect that our strategy to own high end luxury communities, provide exceptional amenities for the residents, and utilize third party management companies to offer residents outstanding customer service will be well received by the community."
Current residents can expect a streamlined transition to the new management company. "Pegasus Residential is very excited to continue our management relationship with Equity Resources with the addition of Park Avenue Lofts," stated Lindy Ware, CEO of Pegasus. "This property will enable us to offer housing in a new market, and we are looking forward to working with Equity Resources and assisting them in their growth."
About Equity Resources, LLC
Equity Resources, LLC was founded in 1976 in Birmingham, Alabama, by Jack Fiorella, CCIM, a Birmingham native and graduate of Auburn University. The company is a highly successful private real estate investment company specializing in the multifamily industry. The company's success can be attributed to its team of real estate professionals, the careful selection of the right assets and deal structures, astute negotiations and an effective network of expert partners. Equity Resources currently owns or has previously owned multifamily assets throughout the Central and Southern United States.For more information, visit
www.equityresources.net
.
About Pegasus Residential
Pegasus Residential, a boutique third-party management company headquartered in Atlanta, Georgia, manages 22,000 units in more than 40 metro markets. Pegasus provides expertise in acquisitions, new development, and re-development; and, also serves as consultants in building and construction services for their clients. For more information, visit
www.pegasusresidential.com.