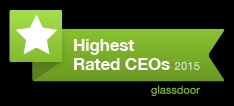 Atlanta, GA, June 11, 2015 --(
PR.com
)-- Insight Global CEO Glenn Johnson has been awarded Glassdoor's Highest Rated CEO recognition for 2015. Glassdoor, a jobs and careers marketplace, released its annual report highlighting the Highest Rated CEOs, this year recognizing top leaders in countries throughout North America and parts of Europe.
Among CEOs recognized in the U.S. at large companies, Johnson received an impressive 94% approval rating, placing in the top 10 on the list, based on the anonymous and voluntary reviews Insight Global employees shared on Glassdoor throughout the past year.
"I am completely humbled and honored to have such a high approval rating," said Johnson. "Insight Global is full of the highest character, hardest working people I've ever known, and it's truly an honor to be associated with them. I love them, they are my family, and because of them I strive to do my best to earn their respect every day."
CEO approval ratings are gathered through Glassdoor's online company review survey, which seeks to gain current and former employee sentiment about job and company satisfaction, the work environment and the culture. Employees are asked to rate a number of workplace factors like compensation and benefits as well as work-life balance, and asked whether they approve or disapprove of the way their CEO is leading the company. In addition, employees are asked to describe some of the upsides and downsides of working for the company and provide any advice for senior management.
Johnson's approval rating has continued to increase since these results were gathered. The CEO currently boasts an approval rating of 96%. Insight Global also maintains an impressive 4.6 star rating on the site.
"Gaining the trust and approval of an entire workforce is one of the most difficult tasks for a CEO to undertake," said Glassdoor CEO and Co-founder, Robert Hohman. "I celebrate the leaders appearing on this list because they've managed to inspire and engage their employees, as proven by the feedback shared on Glassdoor around the clock and around the world."
See the complete list of all Highest Rated CEOs in 2015:
http://www.glassdoor.com/Highest-Rated-CEOs-LST_KQ0,18.htm
About Insight Global
Insight Global is a premier staffing services firm with 38 locations in the US and Canada. Insight Global provides contract staffing for IT and Accounting, Finance, and Engineering through its AF&E division. The company has been ranked one of the fastest growing staffing firms for the past 9 consecutive years and named the 4th largest IT staffing firm in America by The Staffing Industry Analysts. Insight Global will continue this growth by continually expanding office locations and new markets. Insight Global employs over 26,000 people in companies each year with revenues over $1 Billion. For more information about Insight Global, visit
www.insightglobal.net
, or follow us on LinkedIn, Facebook, and Twitter.
About Glassdoor
Glassdoor is the most transparent jobs and career marketplace that is changing how people search for jobs and how companies recruit top talent. Glassdoor combines free and anonymous reviews, ratings and salary content with job listings to help job seekers find the best jobs and address critical questions that come up during the job search, application, interview and negotiation phases of employment. For employers, Glassdoor offers recruiting and employer branding solutions to help attract high-quality candidates at a fraction of the cost of other channels. Glassdoor, which has approximately 30 million members from more than 190 countries, operates one of the most popular job apps on iOS and Android. The company launched in 2008 and has raised approximately $160 million from Google Capital, Tiger Global, Benchmark, Battery Ventures, Sutter Hill Ventures, DAG Ventures, Dragoneer Investment Group, and others.
Glassdoor.com is a registered trademark of Glassdoor, Inc.