Brooklyn's Empire Mayo Goes Global
Brooklyn's Empire Mayonnaise will be exhibiting in booth #4730 at the 2015 Summer Fancy Food Show event, selling nationally and now globally with several new international partnerships.
Brooklyn, NY, June 24, 2015 --(
PR.com
)-- Empire Mayonnaise will be proud to represent Brooklyn in the NY Pavilion for the 2015 Summer Fancy Food Show. The line of gourmet flavored mayo has had a busy year internationally as well, exporting to France, England, Singapore, Canada and Japan.
World renowned Le Bon Marché and La Grande Epicerie in France have announced a storewide exhibition that is set to take place from August 29th to October 17th. The exhibition is centered on Brooklyn brands as an ode to the craftsmanship of New York's trendiest borough. "Our mayo is inspired by a traditional French recipe that's been in my family for generations," said Empire Mayo co-founder Elizabeth Valleau. "My mother was thrilled to hear we'd be featured in Le Bon Marché."
Just last year Empire Mayonnaise launched in Japan at the Hankyu New York Fair and can be seen throughout Japan thanks to a partnership with Brooklynize (ONE UP MUSIC Co., Ltd) - a Japanese company known for their exciting Brooklyn centric pop-up shops. Iconic purveyors of fine British goods, Marks and Spencer, also launched Empire Mayonnaise throughout their stores this past March.
2015 marks four years of chef Sam Mason's tantalizing flavor creations for the micro-batch mayo store. Steady US growth, new global appeal, and participation at highly regarded events like the Fancy Food Show has Empire Mayo looking to expand production and dreaming up exciting new flavors for the Fall.
Founded in 2011 by chef Sam Mason and designer Elizabeth Valleau, Empire Mayonnaise creates exotic small-batch mayonnaise using only non-GMO oils and happy cage-free eggs. Empire Mayonnaise has a Lab/Retail space at 564 Vanderbilt Street in Brooklyn New York. http://EmpireMayo.com
Contact
Empire Mayonnaise Co.
Corinne Butler Thompson
718-636-2069
EmpireMayo.com

Contact
Multimedia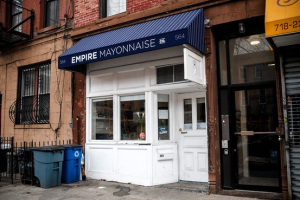 Welcome to Empire Mayonnaise, Earth's only mayonnaise store located in Brooklyn, NY.