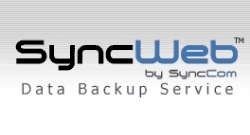 Parsippany, NJ, February 04, 2006 --(
PR.com
)-- SyncCom Data Management Group provides remote data backup services through their SyncWeb subscription service (http://www.syncweb.net) and now offers a white label, fully branded remote backup service for value added resellers (VARs), internet service providers (ISPs), web hosts and various other technology service companies.
"We've been working for the passed several years to develop a white label, branded backup service for our technology partners", commented Keith Christoffers, Ph.D., SyncWeb product manager. "The most challenging aspect of this initiative has been to create a service that fits into the business model of a very broad group of resellers without limiting the functionality and flexibility of the product".
With functionality and flexibility as a focal point during development, SyncCom developed a reseller program that provides all necessary elements to begin offering remote backup services. Included in the program is a completely branded and customized backup application, a 70 page search engine optimized web site with sales and support materials, sample contracts, sales materials, a complete ecommerce system for acquiring new clients, a client control panel for account management, a recurring billing system compatible with most payment processors and a complete client management console.
The value of the program is resultant of the functionality, branding and fully hosted environment. All elements of the service are completely hosted and fully branded, including the recurring billing and client notification systems.
The flexibility of the program is illustrated by the hosting and billing policies. Participants are able to fully customize the appearance and content of the web site, allowing for seamless integration with preexisting web based businesses. In addition, participants are able to completely control the pricing of their services, and important aspect to any VAR service offering.
###