SeatQuest Launches Today: Visual Search Engine for Weary Ticket Buyers
In the rapidly growing online ticket industry, SeatQuest, a Chicago-based software start-up has developed the first website ever dedicated to giving consumers the easiest and fastest way to see where they are sitting and purchase tickets for concerts, theater and sporting events.
Chicago, IL, December 12, 2007 --(
PR.com
)-- SeatQuest Visual Search Engine Offers Relief to Confused Ticket Buyers.
Facebook Users Can Make Event Plans with New Application.
SeatQuest, www.SeatQuest.com, a Chicago-based, software start-up company, has launched a product in hopes of solving the often stressful process of purchasing online tickets. SeatQuest's solution is a visual search engine for tickets. In the ever growing online ticket industry, it is the first website devoted to presentation of online arenas with seat-level specific information for concerts, theater and sporting events.
SeatQuest offers the ability to see all available seats and pricing in one view. This fast, time-saving, easy-to-use, interactive website can be experienced by viewing the "demo" on the site's homepage, www.SeatQuest.com .
"Today, many online ticket buyers are still hesitant to spend a significant amount of money on upcoming events unless they know where they will be sitting," says SeatQuest founder Nomik Eden, Ph.D. "The ability for online shoppers to view and easily pinpoint the best seats for their money should be the standard and is the reason we developed this application."
Features of SeatQuest include the ability to quickly search upcoming events, filter selections by date, quantity and desired cost and a customized zoom tool that provides instant pricing and available seats. This real-time information removes guesswork and instills confidence in the consumer about their purchase.
The online ticket industry, virtually unrecognized several years ago, has grown to over a $4.1 billion industry according to Forrester Research, Inc. More experienced consumers are creating demand for real-time information and more precise venue layouts compared to the majority of ticketing websites that offer static seating charts. SeatQuest offers a solution by visually aggregating events' online seating inventory ultimately shifting some control back to consumers.
SeatQuest, while making it possible to comparison shop for tickets online, has also developed a user-friendly application for Facebook, the popular online social network. Users can add the application to their profile for a fun, easy way to plan upcoming events with friends in their network, as well as visually share where they will sit at the next "big game" or concert. Facebook is the fastest growing social network site today with over 52 million active users.
Visit www.youtube.com and type "SeatQuest" in the search box to view a brief video about this new application.
SeatQuest, LLC is a Chicago-based software start-up company dedicated to digitizing seating charts for concerts, theater and sporting events. Founded in 2006 by Avinoam Nomik Eden, Ph.D., its mission is to provide ticket buyers one-stop shopping and the ability to know where they will sit before purchasing event tickets.
Interviews and demonstrations available.
###
Contact
SeatQuest, LLC
Monica Blaizgis
312-819-0295
www.seatquest.com

Contact
Multimedia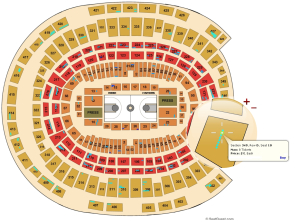 SeatQuest lets consumers pinpoint where they will sit and buy tickets online in one quick screen view.