James G. Montagnino Recognized in Times Square, New York City on the Reuter's Billboard by the National Alliance of Male Executives-N.A.M.E.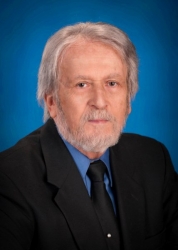 St. Charles, IL, December 12, 2015 --(
PR.com
)-- James G. Montagnino of St. Charles, Illinois has been recognized in Times Square, New York City on the Reuter's Billboard by the National Alliance of Male Executives-N.A.M.E. for his outstanding contributions and achievements in the fields of engineering and consulting.
About James G. Montagnino
Mr. Montagnino has over 50 years experience in the engineering and consulting fields. He is the President and CEO of Production Engineered Designs, Inc. which is an international consulting firm providing global resources in design, manufacturing, engineering and technology transfer. He is an experienced engineering, marketing and operations executive with extensive experience in leadership, business development, product innovation, Asian sourcing/procurement, strategic planning and project management skills in consumer products, business machines, scientific instruments, aerospace and tool/machines. He is responsible for strategic planning, business expansion/development, contract acquisition and negotiation, product development, marketing, project leadership, client relations, patent development and cost controls. Mr. Montagnino serves as a consultant to Asian suppliers. He is affiliated with the Society of Manufacturing Engineers, the Society of Plastics Engineers and the Hong Kong Manufacturers Association.
Prior to starting his firm in 1992, Mr. Montagnino served as a Lead Designer and Field Service Engineer for Perkin-Elmer. He was also employed with CBS, Pitney Bowes, Savin and Clairol/Bristol Meyers and was a contract employee for The Sharper Image, KAZ (Vicks), Sunbeam and Tanita. Through his various employers, he worked with scientific instruments such as the Saturn Space Program dealing with optics, the Panoramic Reconnaissance Systems used during the Vietnam War, the first Orbital Reconnaissance Systems and the first video technologies. Mr. Montagnino worked with business machines including electronic mailing systems, postage meters, automatic mail processing systems and copier systems that included 23 utility issued patents. His work with scale/weighing system technologies involved weighing body fat and body composition, HealthOmeter and weigh on the fly for mailing systems resulting in 41 issued patents. He also worked with personal wellness systems resulting in 61 patents. Mr. Montagnino helped design tools and machines for Bullard Machine Tool Co., Singer Sewing Machine and Burndy Corp.
Mr. Montagnino attended the University of Connecticut and obtained a B.S. in Mechanical Engineering and an A.S.M.E. from Norwalk State Technical College in Norwalk, Connecticut. He trained under three world-renowned scientists: Werner von Braun (Father of Rocket Science), Peter Carl Goldmark (early color television, LP record and EVR/Beta) and Dr. Dennis Gabore (Noble prize for Holography). He learned the philosophy, "Don't tell me what you cannot do, tell me what you can do!" In his spare time he enjoys reading, poetry, detailing cars and his Lakeland Terriers.
For further information, contact
www.ped-inc.com
.
About NATIONAL ALLIANCE OF MALE EXECUTIVES-N.A.M.E.
N.A.M.E.® is a unique online association for male executives and professionals in all industries. This premium service and alliance recognizes male professionals who have achieved success as well as those looking to further their careers and expand their business opportunities by providing networking, advertising, marketing and entertainment services. For more information about their unique services and testimonials, visit their website at www.name-exec.com.
Contact
N.A.M.E.-National Alliance of Male Executives
Katherine Koop
516-272-4494
www.name-exec.com

Contact