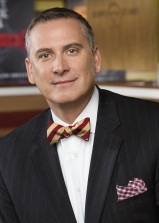 Dallas, TX, January 28, 2016 --(
PR.com
)-- DallasHR, the local affiliate for the Society for Human Resource Management, has named Tony Bridwell, chief people officer at Brinker International, the 2015 Human Resource Executive of the Year. The annual award recognizes a local HR executive who, in the last 12 months, has exemplified the strategic role of HR and served as an outstanding leader with the HR community.
"We are inspired by Tony's commitment to progress the HR profession, for the significant and meaningful contributions he is making to his organization, and for the time and resources he has dedicated to serving selflessly in our community," said Lynne Stewart, 2015 DallasHR president. "He possesses a natural willingness and unlimited capacity to give, both personally and professionally."
At Brinker, Bridwell provides strategic leadership for team member relations, talent acquisition, executive and organizational development, and succession planning. Additionally, he oversees diversity, compensation and benefits, and learning and development.
Under Bridwell's leadership, his team accomplished the following in 2015: helped employees to lose more than 4,000 pounds, leading to reduced medical expenses and time off; ended year-end performance reviews that no longer fit the company culture; provided personal financial education to their general managers; and executed a community service campaign with a successful team member engagement rating.
Bridwell possesses more than 25 years of experience in management, with proven executive leadership in operations, staffing and business development for multiple employers. He first began working with Brinker in 2009 when he served as business unit president for Partners in Leadership. As a consultant, he played an instrumental role in redefining Brinker's culture and in coaching team members on the company's vision. He officially joined the Brinker team in July 2013 as senior vice president of PeopleWorks and, in March 2014, was promoted to his current role.
Bridwell has captivated large audiences as an executive facilitator and featured speaker for organizations across the world, including DallasHR, The HRSouthwest Conference and CHRO.
Outside of his professional commitments, Tony is a member of the American Society for Training & Development and serves on the board of directors for Unlimited Partnerships and Taylor's gift, having donated one of his kidneys to a neighbor (a 1 in 50 million match) in 2012. He also authored the books, "The Difference Maker: A Simple Fable About Making a Difference in the Life of Others" and "The KINGMAKER: A Leadership Story of Inegrity and Purpose," to be released in June 2016.
"I am honored by this distinguished recognition and share it with my team," said Bridwell. "I believe God put us here to serve others with our whole heart. We should all work to build each other up…and that includes in the workplace."
A native of Oklahoma, Bridwell resides in Highland Park, Texas, with his wife, Dee, and together they have three children. In addition to being a husband and father, Tony is an active member of his church, where he serves as a deacon and leadership mentor.
About DallasHR
DallasHR is a not-for-profit, professional association formed to foster the development of its membership, be a forum for the exchange of ideas and provide leadership for human resource concerns. Formed in 1939, DallasHR is the local SHRM affiliate chapter, providing a wide variety of resources to enhance the professionalism, competence and knowledge of its more than 2,000 members. The organization supports the HR practitioner, advances the profession, champions HR causes and supports the business community by providing subject-matter expertise, relevant educational offerings and purposeful networking opportunities. For more details, visit
www.dallashr.org
.
In addition, DallasHR coordinates and hosts The HRSouthwest Conference (HRSWC), the leading regional human resources event in the United States and the State of Texas SHRM Conference. HRSWC provides more than 100 educational sessions from thought-leading speakers, an abundance of networking events and an exciting Marketplace of more than 200 HR solutions and services. More information can be found at
www.hrsouthwest.com
.