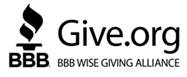 Washington, DC, March 26, 2016 --(
PR.com
)-- This week BBB Wise Giving Alliance (BBB WGA) celebrated its 15th anniversary, highlighting its nearly two decade legacy of helping donors identify trustworthy charities.
"For 15 years, BBB WGA has been a leader in helping donors make informed giving decisions," said H. Art Taylor, CEO and President of BBB WGA. "Last year alone, BBB WGA and BBBs reported on more the 10,000 charities, producing free online reports to help donors give to trustworthy charities. And from rooting out fraud and abuse after the September 11th attacks to assisting donors to give to accredited charities following the earthquakes in Haiti-BBB WGA is proud to have assisted millions of Americans in giving wisely and making a difference with their volunteer time and money donations."
In 2001, when BBB WGA formed it represented one of the highest forms of collaboration - a merger of the two of the oldest charity monitoring organizations that had served donors nearly 85 years: the National Charities Information Bureau (NCIB) and the Philanthropic Advisory Service (PAS) of the Council of Better Business Bureaus, which had been reporting on charities under various names since the 1920s.
ABOUT BBB Wise Giving Alliance (WGA):
BBB Wise Giving Alliance (BBB WGA) is a standards-based charity evaluator that seeks to verify the trustworthiness of nationally-soliciting charities by completing rigorous evaluations based on 20 holistic standards that address charity governance, results reporting, finances, fundraising, appeal accuracy and other issues. National charity reports are produced by the BBB WGA and local charity reports are produced by local Better Business Bureaus - all reports are available at
Give.org
.