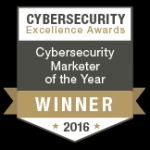 Washington, DC, April 21, 2016 --(
PR.com
)-- Chuck Brooks was selected as the Winner of the category "Cybersecurity Marketer of the Year" at the 2016 Cybersecurity Excellence Awards.
The 2016 Cybersecurity Excellence Awards honor individuals and companies that demonstrate excellence, innovation, and leadership in information security. The Awards are produced in cooperation with the Information Security Community on LinkedIn, taping into the experience of over 290,000 plus cybersecurity professionals to recognize the world's best cybersecurity products, individuals and organizations. Chuck was one of the leading vote getters out of several hundred entrants.
Chuck Brooks serves as Vice President of Government Relations & Marketing for Sutherland Government Solutions. He is Chairman of CompTIA's Emerging Technologies Committee, and Technology Partner Network Advisor to the Bill & Melinda Gates, Foundation, and a "Passcode Influencer" on information security issues for the Christian Science Monitor. He is also on the Advisory boards of several prominent companies and organizations. In the private sector, Chuck has served in a variety of senior executive roles for public and private corporations. In government, Chuck was the first Legislative Director of The Science & Technology Directorate at the US Department of Homeland Security, he served as a Senior Aide to the Late Senator Arlen Specter, and as an Assistant to the Director of The Voice of America. Chuck has an MA from The University of Chicago and a BA from DePauw University. He is a frequent speaker on homeland security, cybersecurity, and emerging technology topics at conferences and events. Chuck's published works have appeared in Forbes, Federal Times, Huffington Post, The Hill, Government Technology, Government Security News, MIT Sloan Blog, and many others.
Please follow Chuck on Twitter @ChuckDBrooks