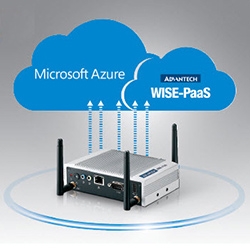 Milpitas, CA, April 21, 2016 --(
PR.com
)-- Advantech, a global leader in the embedded system market, is glad to announce today their IoT Gateway Starter Kit, created through their enabling partnerships with Intel® and Microsoft®. Providing end-to-end data service, the Starter Kit will provide engineers a quick path to IoT innovation with a reliable platform and open gateway technologies. The package includes a ready-to-run system (Intel® Celeron® J1900 platform & Windows 7 Embedded), IoT server-side software & platform service (WISE-PaaS), a software development kit, technical support service, and Microsoft Azure® service certification and integration. With it, designers can take their IoT innovation to market faster and do so with a combined hardware, software & services package of unprecedented value in the IoT Gateway landscape.
Building Blocks to Enable Rapid IoT Development
For IoT developers and system integrators, the Advantech IoT Gateway Starter Kit gives the flexibility to create and deploy innovative, cost-effective and secure IoT solutions for a wide array of industrial applications. "IoT projects are complex and take a long time to implement. Customers are looking for a quick and efficient solution to jumpstart their IoT development. The Advantech IoT Gateway Starter Kit not only simplifies IoT deployment, but also creates capabilities to enable application innovation," said Miller Chang, Advantech Embedded Group Vice President.
The IoT Gateway Starter Kit provides a powerful turnkey building block to connect various existing Things - including machines, devices and sensors. It unifies different protocols under MQTT, the prevailing IoT unifying protocol, then empowers IoT application development for applications such as intelligent alerting, big data and predictive analytics.
Integrated Hardware, Software & Services in One Solution Package
The Advantech IoT Gateway Starter Kit provides a pre-configured system featuring an Intel® Celeron® J1900 SoC and WES7E with 4GB Memory and 500GB HDD. There are two models selected for the Starter Kit and certified by Microsoft Azure:
Ultra Compact Gateway Starter Kit: Designed on the Advantech ARK-1123H-3S53, this system is a rugged and space-saving 5.27" x 1.7" x 3.71" form factor. It is available now at a standard Gateway configuration price of $1035.00.
Multiple I/O Gateway Starter Kit: Designed on the Advantech ARK-2121L-3S52, this Gateway Starter Kit system features broad I/O including 2 x GbE, 2 x RS-232, 2 x RS-232/422/485 & 4 x USB ports. It is available now at a Gateway standard configuration price of $1035.00.
Both Gateway Starter Kit systems are designed to withstand harsh environments, with temperature ratings of up to -20~70○C, with good scalability for networking and versatile I/O communication. Besides the ready-to-run gateway system, the following software solution is provided free in the Gateway Starter Kit package:
WISE-PaaS/RMM Pro version: Provides the data and gateway management software platform services that supports MQTT and provides 100+ RESTful APIs. It enables data storage, data management, and gateway management services to connect gateways at the bottom to the enterprise and/or cloud applications. IoT device remote monitoring and management software for data management, device monitoring/control and security (McAfee Intel® Security). In addition, as Advantech is a certified Microsoft® Azure Embedded Partner, WISE-PaaS/RMM is ready on Microsoft® Azure Marketplace to enable big data analytic services.
IoT Design-in Tools: Advantech provides a gateway and security SDK, 100+ RESTful APIs, Node-RED logic editor design tools and documentation.
IoT Support Service: With 3 hours of online consulting services, customers will have their exclusive account to submit, manage, and track service status.
Access IoT Support Included Free
With the IoT Starter Kit comes 3 hours of free consulting service with Advantech IoT technical staff. To further aid development with discussions with professional consultants and more, Advantech has also built an IoT Developer Forum. The IoT Developer Forum is an online platform for sharing IoT technology best practices and posting questions, such as getting started to working with the latest software and IoT technologies. Any customers who purchase the Starter Kit are eligible to become VIP members in Advantech's IoT Developer Forum community. Advantech technical experts are engaged on the Forum for technical Q&A and the latest technical tools and documents to help customers shorten their design phases and speed their launches.
For more information about the IoT Gateway Starter Kit, visit Buy.Advantech.com/go/IoTKit , reach by phone at 1-888-576-9668, or join our IoT Developer Forum IoTForum.Advantech.com.