Russell Reid Acquires Pumping and Hauling Portion of Aqua Resources
Russell Reid, a waste management company in Keasbey, N.J., has acquired the pumping and hauling division of Aqua Resources (Aqua).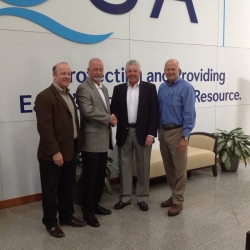 Keasbey, NJ, May 26, 2016 --(
PR.com
)-- Aqua sold the division, which is located in Souderton, Pa., to focus on its core operations of expertly providing water and wastewater services in the communities it serves. To offer continuity to its customers and employees, Aqua selected Russell Reid, whose core values are closely aligned with their own.
The pumping and hauling division supplies services identical to Russell Reid's - bulk hauling for municipal treatment works, non-hazardous industrial wastewater transportation and disposal, septic tank and grease trap pumping and lift station and ejector pit cleaning.
The acquisition includes a leased building with office, yard and shop; nine tractors, eight vacuum trailers, 12 vacuum straight trucks, one Jet Vac, one high-pressure water jet and miscellaneous other equipment. The business is staffed with field service technicians, mechanics and office staff, including a dispatcher, customer service representative and assistant administrator.
All the acquired vehicles will be rebranded with the Russell Reid name and logos. According to Russell Reid President Gary M. Weiner, "We are pleased that the vast majority of Aqua's dedicated and professional staff have become Russell Reid employees as well. The goal is to smoothly integrate their operations into ours and establish Souderton, Pa., as the newest service center for Russell Reid and Mr. John. In addition, to acquiring a solid book of commercial and industrial business, part of the acquisition agreement includes ongoing sludge hauling and disposal services to Aqua facilities."
Aqua Resources' President Anthony J. Donatoni stated, "We are pleased with the outcome of this transaction and for our employees as well. Russell Reid will continue to be a leader in the wastewater hauling business and we wish them much success." With a service area encompassing eastern Pennsylvania, parts of New Jersey and northern Delaware, "This acquisition immediately and significantly enhances the landscape of our tri-state service area and further demonstrates our ability to expand into new markets and achieve sustainable growth," said Weiner.
About Russell Reid:
Russell Reid has been providing wastewater management services to commercial, municipal, industrial and residential customers since 1943. The company serves New Jersey, greater New York, eastern PA and DE from seven strategic locations.
For more information, contact Russell Reid at 800-356-4468 or visit the company's web site at www.russellreid.com.
About Aqua:
Aqua is one of the largest U.S.–based, publicly traded water utilities and serves nearly 3 million people in Pennsylvania, Ohio, North Carolina, Illinois, Texas, New Jersey, Indiana and Virginia. Aqua America is listed on the New York Stock Exchange under the ticker symbol WTR. Visit AquaAmerica.com for more information.
Contact
Russell Reid
Rebekah Weiner
800-356-4468
www.russellreid.com

Contact