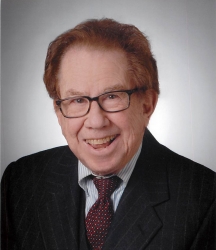 Farmingdale, NY, September 09, 2016 --(
PR.com
)-- Albert C. Hanna of Chicago, Illinois
www.albertchanna.org
was formerly associated with Draper and Kramer Inc. as Senior Vice President. He earned his B.B.A., J.D. and M.B.A. at the University of Wisconsin. Mr. Hanna has 55 years of experience in the field and a work career spanning over 73 years (having started working at age 13). In 1997, he was voted Man of the Year by the Chicago Mortgage Bankers Association. In 2003, Mr. Hanna was the first mortgage banker elected to the Chicago Association of Realtors Hall of Fame. He was also the first mortgage banker to be formally recognized as a "visionary leader" by the City of Chicago Council Resolution (adopted September 4, 2003). The Council honored Mr. Hanna as a "….leader of great entrepreneurial spirit and accomplishment, [demonstrating] an enviable record of professional achievement and civic leadership." In 1997-98, Mr. Hanna and his wife were proud to have founded the Tesomas Alumni Camping Trust (TACT), the Al and Chris Hanna Eagle Scout Scholarship Foundation and funded the construction of the Council's unique Hanna Venture Base including a 23 foot high interior climbing wall, 60' climbing tower, 6 station high rope course and a zip line. In 2015, Mr. Hanna was also honored by the National Boy Scouts of America with a Silver Beaver Award, the organization's highest honor. Mr. Hanna has traveled, cycled, canoed, climbed and hiked through 65 countries on all seven continents and summated six of the seven summits. In 2000, at age 70 and on this third attempt, he missed his goal of summiting Mount Everest (29,036') (the seventh summit) by 33 vertical feet. For good measure, he "threw in" Indonesia's Carstensz Pyramid, which at 16,023' is the tallest peak in Oceania.
While serving in the Armed Forces in Korea, where he taught English at night, and during a visit to India in the mid 1950's, he grew increasingly aware of the poverty that beset the world and set classes of people against one another. Throughout his career, Mr. Hanna has been a powerful and passionate advocate for housing justice, property rights and incentivizing – not penalizing – the home building and apartment and condominium development industries. In this regard, since 1971, he has contributed over 35,000 pro-bono hours on behalf of the public.
The Bio of the Month membership is allotted to a particular individual by America's Registry of Outstanding Professionals for excellence and performance in their chosen career. Albert C. Hanna has a proven record of achievement in the field of Philanthropy, therefore, he has earned this honor. America's Registry is pleased to honor Albert C. Hanna for his career accomplishments in Philanthropy. He has touched the lives of so many in his work as a philanthropist especially pertaining to the Boy Scouts of America. Combined with his own personal achievements in the world of skiing and mountain climbing, he is truly a remarkable personality and deserving of the recognition that America's Registry has to offer.