AmericaTowne, Inc.® Announces Joint Venutre
AmericaTowne Announces Joint Venture with Nationwide Microfinance Limited.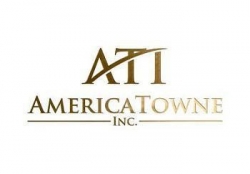 Raleigh, NC, July 19, 2016 --(
PR.com
)-- AmericaTowne, Inc.®, a Delaware corporation (the "Company") announced that it has entered into a joint venture agreement with Nationwide Microfinance Limited, a Ghanian corporation and Tier 2 microfinance company providing retain and commercial financial products in Ghana. The intent, at this time, is that the Company will be issued 51% of the voting shares in the joint venture entity; however, as set forth in more detail in the agreement, which can be found on the website, below, the Company will not be involved in financing, insurance, securities or other investment company or banking matters.
Alton Perkins, Chief Executive Officer and President of the Company commented, "Our diversification plan has always incorporated research and penetration into growing and expanding industries in developing countries. This joint venture with Nationwide Microfinance was evaluated by management, and determined to fit the Company's diversification model. We are excited for this new and challenging opportunity."
Please call the Company at (888) 406-2713 if you have any questions. For investor information you may obtain a written prospectus by contacting the Company at the foregoing telephone number or by writing to the Company at AmericaTowne, Inc., Attn: Investor Relations, 4700 Homewood Court, Suite 100 in Raleigh, North Carolina 27609.
About AmericaTowne, Inc.
AmericaTowne is incorporated in the State of Delaware. AmericaTowne's objective is to provide upper and middle-income consumers in China with "Made In The USA" goods and services allowing customers to experience the United States' culture and lifestyle. In addition, AmericaTowne sees opportunities in developing countries, such as Africa, in implementing business solutions considered mainstream in America, but relatively new in these developing countries. AmericaTowne is deploying resources, research and expertise in evaluating these opportunities as part of its overall growth model. AmericaTowne is a publicly reporting company with the United States Securities and Exchange Commission, and its quarterly and annual reports, and periodic disclosures may be found at www.sec.gov/edgar and also at www.americatowne.com.
Forward Looking Statement
This press release contains forward-looking statements that relate to expectations, beliefs, projections, future plans and strategies, anticipated events and similar expressions. Forward-looking statements may be identified by use of words such as "may," "will," "should," "expects," "intends," "plans," "anticipates," "believes," "estimates," or "potential" or similar words or phrases which are predictions of or indicate future events or trends. Statements such as those concerning potential acquisition activity, investment objectives, strategies, opportunities, other plans and objectives for future operations or economic performance are based on the Company's current expectations, plans, estimates, assumptions and beliefs that involve numerous risks and uncertainties. You are cautioned not to place undue reliance on any forward-looking statements and the Company disclaims any obligation to publicly update or revise any forward-looking statement to reflect changes in underlying assumptions or factors, new information, future events or other changes. Please refer to Company's filings with the Securities and Exchange Commission for further information.
Contact: Alton Perkins, Chief Executive Officer, (888) 406-2713, ap@americatowne.com
Source: AmericaTowne, Inc.
Contact
AmericaTowne, Inc.
Leisanne Smeadala
248-881-7987
www.americatown.com

Contact