Donlen Contact Center Earns Outstanding Customer Support Performance Recognition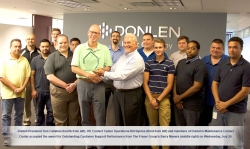 Northbrook, IL, July 21, 2016 --(
PR.com
)-- Donlen announced today that its Maintenance Contact Center has earned the Outstanding Customer Support Performance recognition award from the Fraser Group for achieving scores seldom attained by customer engagement centers. This award-winning performance was achieved while maintaining answer times of 20 seconds and an abandon rate of 1 percent.
Donlen's 56 maintenance advisers were evaluated against 500 measurable criteria each month for 12 straight months. To achieve this recognition, contact center employees must receive a performance score above 90-percent in areas such as listening, questioning, confirmation, professionalism and closing. These monthly metrics take into account all of the contact center advisers' performances. Since 2007, the Fraser Group has awarded this recognition to four of the 74 contact centers it works with.
"For the past year, our Donlen Contact Center employees worked with very specific attention to detail for all calls that came in. They know that vehicle downtime costs our customers money, and repairs should be performed to the highest quality for the safety of our customers' drivers, as well as maintaining excellent relationships with our repair vendors," Bill Byrnes, vice president of contact center operations, said. "By striving for high results, our advisers achieved very high levels of performance for 12 straight months while continually reducing our customers' maintenance costs. We are pleased by this recognition."
The Outstanding Customer Support Performance Recognition was hand-delivered by The Fraser Group on July 20, 2016. The Fraser Group is a management-consulting firm with extensive experience in voice of the customer research. For more than 20 years, the Fraser Group has focused on the application of analytical techniques with research designs that provide actionable information for the management in the areas of customer loyalty and satisfaction, customer relationship management, and employee satisfaction measurement and improvement.
About Donlen Corporation
Donlen develops cutting-edge technology solutions and offers a proactive, hands-on approach to customer service for the fleet management industry. For more than 50 years, Donlen's industry-leading solutions have empowered its customers to focus on their core business and drive continuous improvement in their fleets' operational and financial performance. Headquartered in Northbrook, Ill., Donlen is a wholly owned subsidiary of The Hertz Corporation (NYSE: HTZ). For more information about Donlen's best-in-class fleet management solutions, visit www.donlen.com.
Contact
Donlen
Carlos Oropeza
847-412-5240
www.donlen.com

Contact